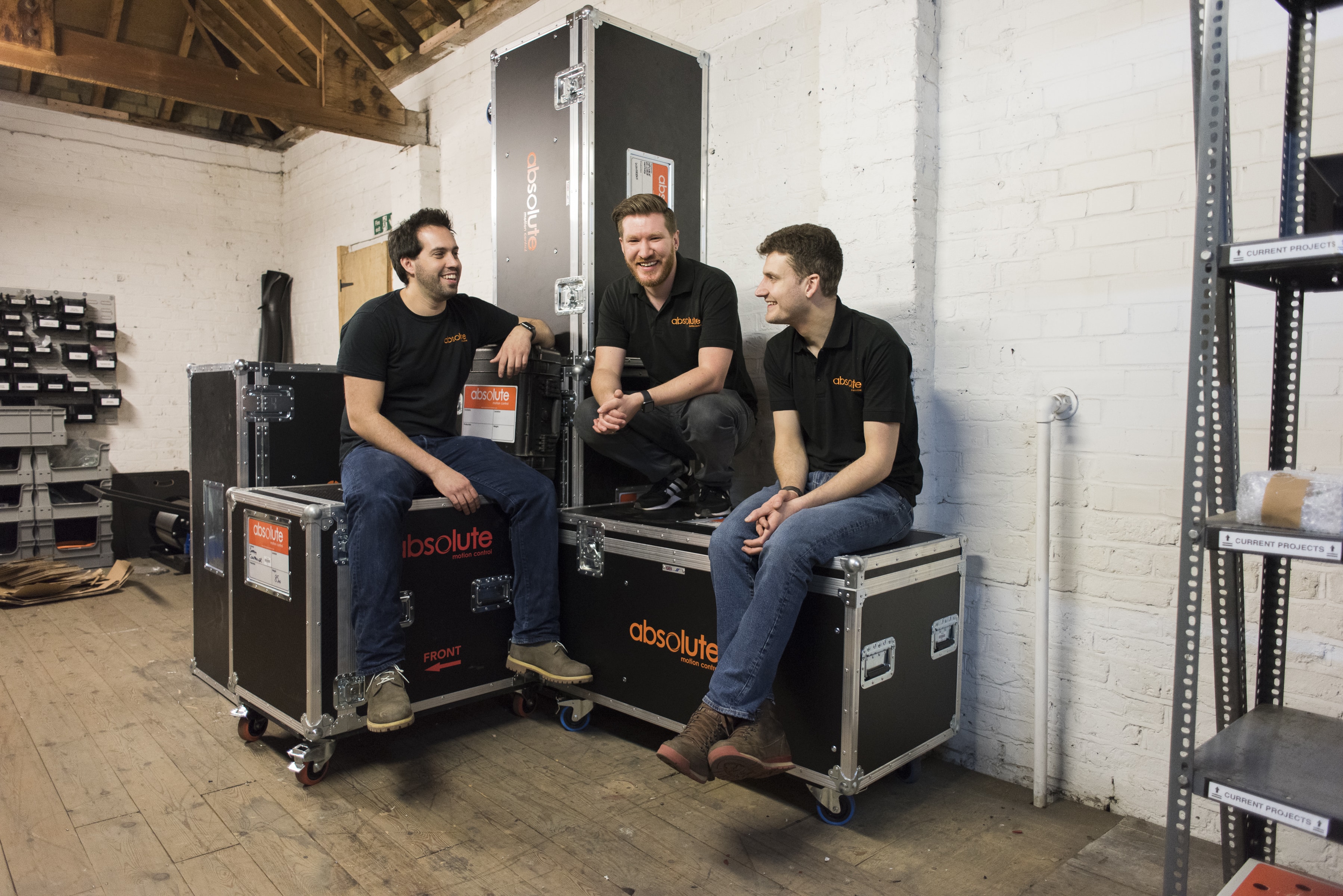 Background – The Customer:
Absolute Motion Control Ltd provides custom built and fully tested automation solutions for the entertainment industry. They have successfully worked with award winning theatres and stage shows to provide bespoke control equipment to power the moving elements of the set.

The company was founded by Ben Phillips, Rob Raskovsky and Jamie West with a combined experience of 30 years in the entertainment industry. They are able to bring their unique knowledge from their work on a huge number of productions in the West End, on tour and internationally, to different projects and productions, providing an industry-beating level of support.

The company has quickly emerged as one of the leaders in the field of theatre automation, with an unrivalled level of customer service from a project's conception, right through to beyond opening night.
The Challenge:
The goal of Absolute Motion Control is to provide their customers with the highest level of technical performance and reliability. The main challenge is providing solutions that meet the exacting and unique requirements of each theatre, musical or show. It is extremely important that the control system has the highest level of safety to prevent any risks to the performers, audience and theatre.
The company require only the highest quality control gear and enclosures that guarantee reliable performance in a live production. Investing in high-quality and reliable equipment is critical for the success of the business. Equipment built for rental is required to perform on show after show, year after year. It also needs to stand up to the rigours of touring productions that need to travel on a regular basis, sometimes as often as weekly. 
The Solution:
Absolute Motion Control custom build their equipment based on the latest automation technologies, creating a powerful and flexible control system. 
 
The company chose to design control systems that fit inside Eldon Electrical Enclosures. Eldon were chosen as an ideal solution for safeguarding the control system due to their robust design and high customisability. 
 
The company design these around specific requirements, build them in house, and eventually hire them out as reusable rental equipment.

In the theatre and entertainment industry, things can often happen at the last minute or requirements change suddenly. Because lead times are tight, getting customised enclosures in time can often be a challenge. CSE are able to keep in stock customised enclosures so they can be shipped at a moments notice. It's this incredible service that has enabled Absolute Motion Control to take on jobs where previously they would have had to turn them down, because getting parts in time would have been impossible.
 
They have been able to design, from the ground up, a control system that can meet the demands of today's productions, with the power and capability to expand to meet the demands of the future. 
"CSE have been incredible in sourcing the components and materials we need to build our custom and rental solutions. We have been able to switch to CSE as our main supplier for a large majority of components, simplifying the ordering process considerably. Without their generous services such as stocking our custom enclosures for next day delivery, there would have been some projects which we would have had to miss out on. In many ways, we think of CSE as not just being a supplier, but a real parter to our company's success." said Rob Raskovsky, Co-Founder at Absolute Motion Control.
Benefits of using Eldon Enclosures include:
            • Customisable to allow for any type of configuration
            • Multiple designs and materials available
            • Online availability of CAD data
            • High quality range meets international standards
Absolute Motion Control also use a range of automation and control gear sourced from CSE Distributors including Junction Boxes, Switchgear, MCB's, Contactors, Contact Terminals, Tri-Rated cables and Bootlace Ferrules from leading brands including ABB.
 
Integrating these into a control panel with a customised enclosing solution ensured the protection and performance to meet the technical demands of today's productions, and also for those in the future.