Come and meet our technical maestro Paul Phillips, as he talks about his career and his role as automation and drives technical specialist at CSE.
Monday 12th June 2023
I recently had the pleasure of sitting down with Paul Phillips, our esteemed technical sales specialist and industrial automation expert. During our conversation, I asked him about his career journey, from his beginnings in the industry to his current role at CSE. Paul has been an integral member of our team for almost five years now providing technical advice to customers as well as training for our staff.

To Start off with, can you give us a brief overview of your areas of expertise?

So, my main area is factory automation, so anything with a drive and motor is my main area. Though I can also advise on other areas such as power distribution, panel builds etc.

So how did you begin your career in the industry?

My career took a surprising turn when I transitioned from working in telecoms to building maintenance. I eventually landed a temporary sales position in Slough, which led to a long-term career in the Industrial Control market.

Can you share other instances where you've utilized your sales expertise?

I began my sales career at Thames Electrical Controls, and later held positions at several other distributors. Prior to joining CSE, I was the Area Sales Manager for BPX. Currently, I am delighted to be part of the CSE team, where I serve in a technical specialist role.

How has this experience helped with your role here at CSE?

I have had the opportunity to work with several of the major players in the ICG Automation & Drive's industry, such as Omron, Telemecanique-Merlin Gerin (Schneider), Siemens, Klockner Moeller, and Allen Bradley, to name a few. This allows me to provide recommendations and equivalents in ABB and IMO, giving my customers more options for potential solutions to their automation needs.

Can you give us any examples of how you have used your knowledge to help your customers?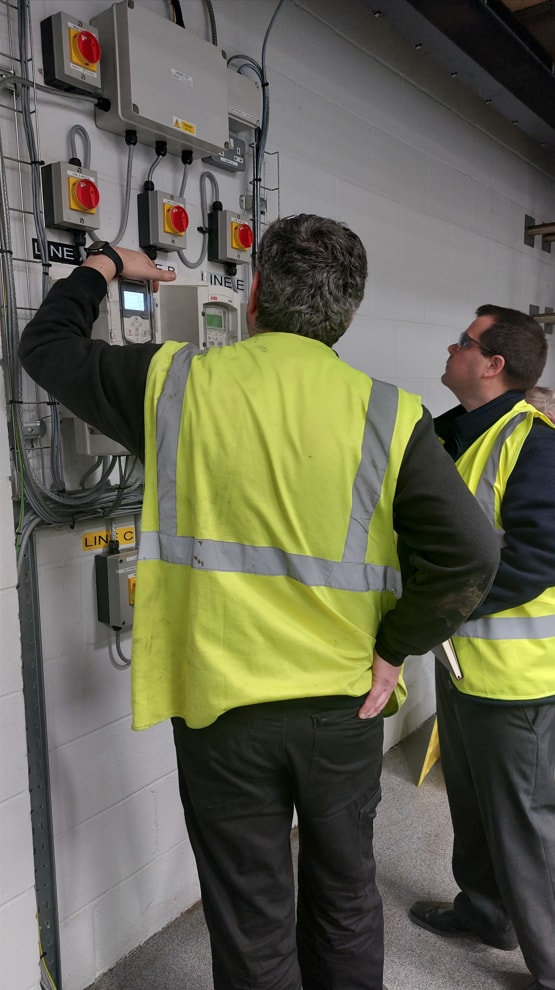 Recently, a long-standing customer of ours, who produces liquid products for cars, approached us with a challenge. They needed to set up sensors and PLC automation for their 17 large liquid storage tanks in a new production line. Our cables specialist James and I went to their warehouse to assess the situation and determine the necessary requirements.
We quickly realized the complexity of the job and that it would require various types of automation gear, including
ABB Drives
for automation
, PLC Software services, IO distribution terminal boxes consisting of
Gewiss
and
TE terminal blocks
, and the correct device net and
SY cable
to suit. Everything had to be suitable for a hazardous area, so sourcing appropriately was also key.
After spec'ing out the project, we recognized the logistical challenges ahead. We worked closely with our couriers to ensure timely delivery of all the necessary components. Once everything arrived and was installed, we traveled down and did some final checks and commissioning to ensure everything ran smoothly for our customer and altered where necessary.
Now they can automate every aspect of production, including checking products are made to the required standards and automating stock holding and ordering thanks to the PLC set-up.
It was a very successful project, and our customer was pleased with the results. In fact, they asked us to do the same set-up on eight more tanks!
Well, I think your knowledge has definitely served you well, what interested you in coming to work with CSE?

CSE's staff are top-notch, covering all departments and branches. I've had the pleasure of working with some of them over the years, and they all share a common goal of ensuring customer satisfaction and optimizing better business through expert distribution. Located in Wooburn Green, their head office is situated in a charming village, where you can enjoy a morning coffee at the local bakery overlooking the green, making for a great start to the day.

The village also has a fantastic pub where myself and my colleagues can unwind after a busy week.

As well as being a technical maestro at work, what else do you get up to in your spare time?
Well, I am into music, golf, HAM radio and I'm part of the Wycombe Astronomical Society which I post about on social media and help with outreach events and share with like-minded people. So, a varied range you can say.

Need help? Contact our Automation and Controls specialist today.

Paul has gained heaps of experience in the industry, culminating in his current role as our automation technical specialist here at CSE. With his expertise, my colleagues and I can offer our customers effective solutions to everyday industry problems. Whether you need help setting up an ABB drive keypad or selecting the right motor for your existing setup, we're here to help. Contact us at 01628 529448 or email sales@cseuk.com for technical assistance. Thank you for considering us as your Automation and controls supplier.