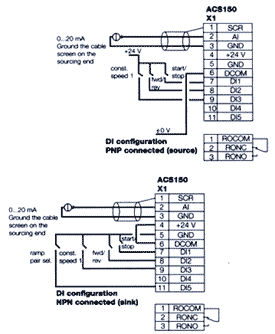 Below is a technical specification of the ACS150.
Mains Connection
Voltage and Power Range
1 phase, 200 to 240V ± 10%
0.37 to 2.2 kW (0.5 to 3 hp)
3-phase, 200 to 240 V ± 10%
0.37 to 2.2 kW (0.5 to 3 hp)
3-phase, 380 to 480 V ± 10%
0.37 to 4kW (0.5 to 5 hp)
Frequency
48 to 63Hz
Power factor
0.98
Motor Connection
Voltage
3-phase, from 0 to Usupply
Frequency
0 to 500 Hz
Continuous loading capability
Rated output current I2N
(constant torque at a max. ambient temperature 40oC)
Overload capability
(at a max. ambient temperature of 40oC)
At heavy duty use 1.5 x I2N for 1 minute every 10 minutes
At start 1.8 x I2N for 2 s
Switching frequency
Default
Selectable
4kHz
4 to 12 kHz with 4 kHz steps
Acceleration time
0.1 to 1800 s
Deceleration time
0.1 to 1800 s
Braking
Inbuilt brake chopper as standard
Environmental Limits
Ambient temperature
-10 to 40oC (14 to 104F), no frost allowed, 50oC (122F) with 10% derating
Altitude
Output current
Rated current available at 0 to 1000m
(0 to 3281 ft) reduced by 1% per 100m
(328 ft) over 1000 to 2000m (3281 to 6562 ft)
Relative humidity
Lower than 95% (without condensation)
Protection class
IP20 / Optional NEMA 1 enclosure
Enclosure colour
NCS 1502-Y, RAL 9002, PMS 420C
Contamination levels
IEC721-3-3
No conductive dust allowed
Transportation
Class 1C2 (chemical gases)
Class 1S2 (solid particles)
Storage
Class 2C2 (chemical gases)
Class 2S2 (solid particles)
Operation
Class 3C2 (chemical gases)
Class 3S2 (solid particles)
Chokes
AC input chokes
External option.
For reducing THD in partial loads and to comply with EN61000-3-2.
AC output chokes
External option.
To achieve longer motor cables.
Programmable Control Connections
One analogue input
Voltage signal
0 (2) to 10 V, Rin > 312k©
Current signal
0 (4) to 20 mA, Rin = 100©
Resolution
0.1%
Accuracy
± 1%
Auxiliary Voltage
24 V DC ± 10%
Five digital inputs
12 to 24 V DC with internal or external supply, PNP and NPN, pulse train 0 to 16kHz.
Input impedance
2.4k©
One relay output
Type
NO + NC
Maximum switching voltage
250 V AC / 30 V DC
Maximum switching current
0.5 A/30 V DC; 5 A/230 V AC
Maximum continuous current
2 A rms
Product Compliance
Low voltage Directive 73/23/EEC with supplements
Machinery directive 98/37/EC
EMC Directive 89/336/EEC with supplements
Quality assurance system ISO 9001
Environmental systems ISO 14001
UL, cUL, CE, C-Tick, and GOST R approvals
EMC (according to EN61800-3)
2nd environmental filter, unrestricted distribution with 30m (98ft) cable inbuilt as standard
Click for the ABB ACS150 Technical PDF