Keeps you out of trouble
EMC fi lters for building sector, class C2 (1st environment).
Meets mandatory harmonic current standard EN 61000-3-12.
Coated electronic boards supporting longer lifetime of the drive.
Full motor (kW) output at 50 °C
All items carry written manufacturer's statement of conformity.
Real-time clock and calendar
The built-in real-time clock and calendar function provides true time and date stamps to drive events. Information is displayed clearly on the control panel. The clock and calendar function enables the use of timers. Further, daylight saving times are easily selected according to different time zones.
Built-in timers
External timer circuits are no longer needed. Built-in timers – utilising the real-time clock – allow starting and stopping the drive or changing the speed, according to the time of day or night. Relay outputs can be operated with timers to control any auxiliary equipment on site.
Ambient temperature up to 50 °C in 24/7/365.
BACnet MS/TP, N2, FLN and Modbus RTU embedded
Commonly used HVAC communication protocols are embedded into the drive, ensuring that they are always there if you need them. ABB has supplied, to building automation, tens of thousands of drives utilizing serial communications, including more than 30.000 BACnet installations.
Makes your life comfortable
Multilingual control panel with HELP-button
14 HVAC application macros are pre programmed and selectable without programming.
A printed users manual is delivered with each drive.
Miniature circuit breakers can be used instead of fuses.
Swinging chokes – up to 25% less harmonics
ABB's swinging choke lets the ABB standard drive for HVAC deliver up to 25% less harmonics at partial loads, compared to a conventional choke of equal size.
Wide range of interactive assistants
Start-up
PID loop control
Timer functions
Serial communication
And many more
Main switch as option for local safety
Integrated drive specific disconnect solution for
easy installation
easy serviceability
space savings
Interactive start-up assistant
The start-up assistant shows how to use the PID controllers, timers and serial communications settings.
Tailor-made HVAC software
The ABB standard drive for HVAC delivers a complete solution with a tailor-made configuration that will save you time and money. For example, actual process values like differential pressure signals can be converted inside the drive and displayed in engineering units like bar, l/s and °C.
Interactive maintenance assistant
Maintenance scheduling no longer requires guesswork. The ABB standard drive for HVAC alerts you when maintenance is required based on your individual requirements.
Interactive diagnostic assistant
Should a fault occur, the diagnostic assistant displays, in plain language, possible causes and potential solutions.
Fault logger
The fault logger of the ABB standard drive for HVAC is especially useful in tracking down drive failures through its use of the real-time clock. In addition to recording both time and date, the fault logger also takes a snapshot of 7 diagnostic values – like motor speed and output current. You know what happened and when.
Tools for
calculating energy savings and payback times
commissioning
remote access and diagnostics
Noise smoothing
Clever software function to smooth the audible noise.
Flange mounting
The ABB standard drive for HVAC can be flange-mounted to the side of an air duct or integrated with an air handling unit (AHU). By placing the heat sink of the drive in the air flow, additional cooling is achieved efficiently.
Flux optimization
With flux optimization, the magnitude of the flux is controlled according to the actual load. This results in reduced energy consumption and lower noise levels. Silent operation functions further reduce noise when needed.
Two PID controllers as standard
The ABB standard drive for HVAC has two independent PID controllers built in. As an example: one PID controller works with the drive to maintain the duct static pressure. Simultaneously, the other PID controller can be used to control a separate external device, e.g. a chilled water valve. All of this can, of course, be monitored and controlled through serial communications.
Mounting side by side
The ABB standard drive for HVAC is optimized for building into cabinets: no space is needed between the units, whether IP21 or IP54, even with the covers on.
Motor protection with PTC or PT 100.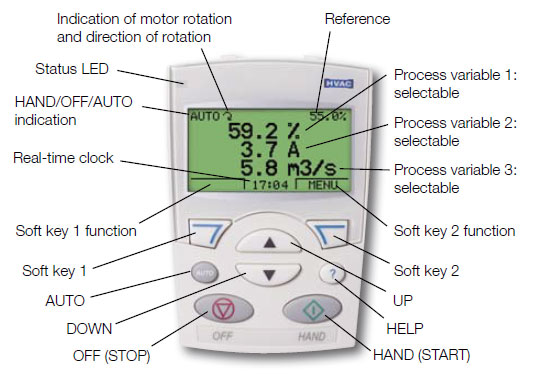 Tailor-made control panel for HVAC applications
Interactive assistants advise on the use of PID (incl. air flow calculation), timers, fieldbus and facilitate commissioning
HELP button always available
Up- and downloading of parameters from one drive to another
Easily detachable by hand (both IP21 and IP54)
Built-in real-time clock
18 languages available in one single panel, including Russian, Turkish, Czech, Polish and Chinese
Click for the ABB ACH550 Technical PDF