Assistant Control Panel
For simple drive programming, a detachable, multi-lingual alphanumeric assistant control panel is delivered as standard.  The control panel has various assistants and a built-in help function to guide the user.
It includes a real time clock, which can be used during fault logging and in in controlling the drive, such as start / stop. The control panel can be used for copying parameters for back up or for downloading to another drive.  A large graphical display and soft keys make it extremely simple to navigate.
Panel Mounting Kit
The panel mounting kit enables mounting of control panels on cabinet doors. This kit includes an extension cable, a gasket, mounting screws and a mounting template.
Available Options
Protection Class
B055
IP54
Control Panel
0J400
If no control panel is required
J404
Basic control panel
ACS-CP-C
–
Panel mounting kit
ACS/H-CP-EXT
i/O Options 1)
L511
Relay output extension
OREL-01
Fieldbus 2)
K451
DeviceNet
RDNA-01
K452
LonWorks
RLON-01
K454
Profibus-DP
RPBA-01
K457
CANOpen
RCAN-01
K462
ControlNet
RCNA-01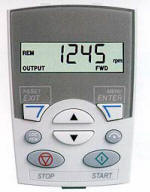 1) One slot available for relay
2) One slot available for fieldbus adaptor. Modbus built-in as standard
Basic Control Panel
The basic control panel features a single line numeric display.  The panel can be used to control the drive, set the parameter values or copy them from one drive to another.
Click for the ABB ACS550 PDF