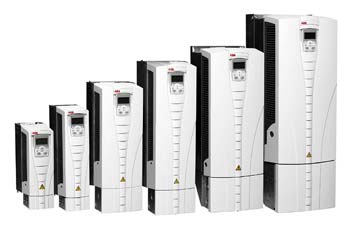 Please note: The ACS550 range has now been replaced by the ACS580.
The ABB ACS550 range from 0.75kW to 355 kW – DriveIT Low Voltage AC Drive.  The ABB Standard drive is simple to buy, install, configure and use, saving considerable time. The drive has common user and process interface with fieldbus, common software tools for sizing, commissioning, maintenance and common spare parts.
The ABB standard drive can be used in a wide range of industries. Typical applications include pump, fan and constant torque use, such as conveyors. The ABB standard drive is ideal in those situations where there is a need for simplicity to install, commission and use and where customising or special product engineering is not required.
Key Highlights
Assistant control panel providing intuitive use of the drive
Patent pending swinging choke for superior harmonic reduction
Sensorless vector control
Integral RFI filter for 1st and 2nd environment as standard
Flexible fieldbus system with built-in Modbus and numerous internally mountable fieldbus adaptors
UL, cUL and CE approved
Feature
Note
Benefit
Assistant control panel
Two soft-keys, function of which changes according to the state of the panel Built-in 'help' buttonReal time clock, allows timed tracing of faults and
setting of parameters to activate at various times of
dayChanged parameters menu

Simple commissioningFast set-up

Simpler configuration

Rapid fault diagnosis

Quick access to recent parameter changes

Brake Chopper
Built-in up to 11kW
Reduced cost
Chokes
Swinging DC chokes – matches the right
inductance to the right load, thereby suppressing and
reducing harmonics
Reduces Total Harmonic Distortion (THD)
emissions up to 25%
Connectivity

Simple to install:Simple connection of cables

Simple connection to external fieldbus systems through
multiple I/Os and plug-in options

Reduced installation
timeSecure cable connections
Diagnostic assistant
Activated when fault occurs
Quick fault diagnostics
EMC
1st and 2nd
environment RFI filters as standard
No need for
additional external filtering
Fieldbus
Built in Modbus using RS485Optional plug-in fieldbus modules
Reduced cost
Intuitive features
Noise optimisation:Increases switching frequency of drive when drive
temperature is reducedControlled cooling fan: Drive is cooled only when
necessary
Considerable motor
noise reductionReduces inverter noise and improves energy efficiency
Maintenance assistant
Monitors running hours or motor
rotation
Takes care of preventative maintenance
of drive, the motor or run application
Mounting template
Supplied separately
with unit
Quick and simple to
mark mounting screw holes on installation surface
Sensorless vector control
Improved motor control performance
Enables wider range of applications
Start-up assistant
Guides user through
all essential settings without going to parameter list
Simple set-up of
parameters
Click for the ABB ACS550 PDF