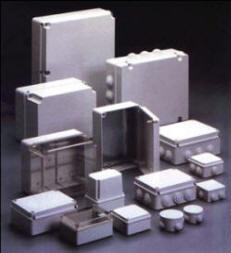 The Gewiss range of surface mounting, watertight plastic enclosures offer a simple low-cost solution for general use. The plastic electrical boxes are ideal for mounting small electrical items such as transformers, terminals, starters, etc.
CSE hold in stock the most popular items as shown in the price list below. All other products are available to order.
Features and benefits
Modular sizes.
Available with either low or deep lid.
Available with opaque grey or transparent lids.
(Colour: Grey RAL7035).
Temperature rating of 75ºC.
(120ºC Temperature rating available to order).
Mounting plates include self tapping screws for easy use
Din-Rail can be cut to size and mounted directly into the self-tapping holes in the back of the enclosure base.
The part numbers below are for plain walled enclosures. Integral flexible plastic glands are also available – please enquire. Click on the part numbers to buy on-line.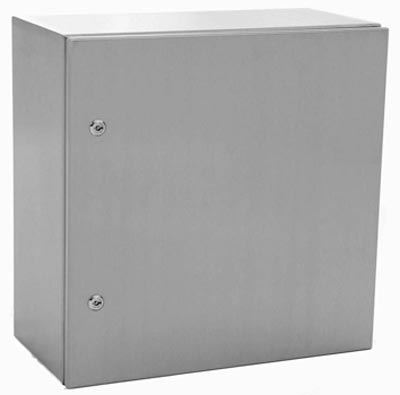 Part Nº
Internal Dimensions (mm)LxHxD
Backplate Type
Lid Type
GW44204
100 x 100 x 50
N/A
Shallow
GW44205
120 x 80 x 50
N/A
Shallow
GW44206
150 x 110 x 70
N/A
Shallow
GW44207
190 x 140 x 70
GW44615
Shallow
GW44208
240 x 190 x 90
GW44616
Shallow
GW44209
300 x 220 x 120
GW44617
Shallow
GW44210
380 x 300 x 120
GW44618
Shallow
GW44211
460 x 380 x 120
GW44619
Shallow
GW44214
100 x 100 x 120
N/A
Deep
GW44215
120 x 80 x 120
N/A
Deep
GW44216
150 x 110 x 140
N/A
Deep
GW44217
190 x 140 x 140
GW44615
Deep
GW44218
240 x 190 x 160
GW44616
Deep
GW44219
300 x 220 x 180
GW44617
Deep
GW44220
380 x 300 x 180
GW44618
Deep
GW44221
460 x 380 x 180
GW44619
Deep
Galvanized Metal Mounting Plate C/w Screws

The table below shows the range of metal backplates; Insulated plastic backplates are available to order, please enquire.

CSE Part Nº
To suit enclosure size
GW44615
190 x 140 x 70
GW44616
240 x 190 x 90
GW44617
300 x 220 x 120
GW44618
380 x 300 x 120
GW44619
460 x 380 x 120