A complete set of terminal block marking solutions to fit your marking requirements: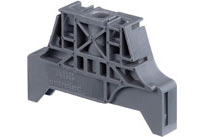 End Stops
Choose between the robust BAM3 and the high BAZH1 for double deck and power blocks. All compatible with label holders.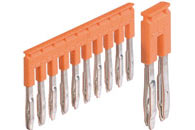 Jumpers
Simplify the block interconnection with the isolated screwless jumper JB… available for 4 to 16 mm² 10 to 4 AWG terminal blocks.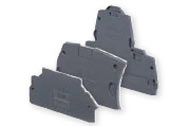 End Sections
One end section ES4 for the core feed-through range from 4 mm² to 95 mm² 10 to 000 AWG. Just three ends sections needed for the entire SNK series range.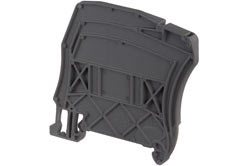 Circuit Separators
Separate and easily visualize different parts of your assembly with the universal circuit separator CS-R1.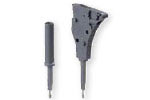 Testing Solutions
Test your assembly up to 15 poles with the test connector TC… or simply control the voltage with the test adaptor TP for 2, 2.3 or 4 mm test plug diameter.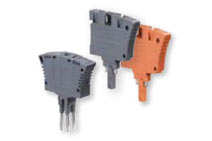 Plugs
PG5 component plugs ease the component installation (resistors or diodes) with a quick plug-in mounting system which avoids any soldering.
PG5-R2 plugs fit into the terminal block's jumper channel for component insertion (resistors, diodes, etc.) between two terminal blocks.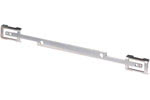 Shielding
Ensure the continuity of your shield connection with the SHB… shield connectors providing rapid and convenient installation.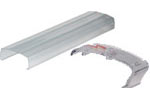 Covers
PL… individual terminal block protective covers allow the rapid identification of live circuits. They also limit access to the screw clamp.
KCO transparent mounting kit protective covers reliably restrict access to your terminal assembly with the possibility of sealing.