The Smallest High Power Drive in its Class
High efficiency components and innovative designs make Danfoss VLT high power drives extremely compact as well as simple to commission and operate.
Danfoss' high power drives are designed for side by side mounting in standard Rittal cabinets.
Drive Flexibility
The modular design of the largest VLT drives provide maximum flexibility to satisfy a wide range of application needs.
The modular drive inverters use the same power components as the stand alone drives, reducing the number of spare parts required.
In the event a repair is necessary, the modular drives are designed to allow front door access to all key components, minimising downtime.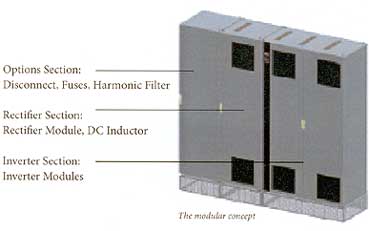 Intelligent Cooling – Optimal Operation
Accessories allow for simple installation of IP00 high power VLT series units in standard Rittal TS8 Enclosures.  The kit is available for 1800mm and 2000mm high enclosures.  The minimum depth of the enclosure is 500mm and the minimum width is 600mm for a single frequency converter to be installed.  Multiple drives can be installed side by side in larger Rittal TS8 enclosures of the same height.
Standardised Mounting
The options provide a mounting solution in standard Rittal TS8 enclosures where the customer can utilise the cooling attributes of the high power drives.  The design provides:
A quick and simple installation with standard options saving time and cost
Utilisation of the internal fan of the drive to remove the heat avoiding cost of additional fans in the Rittal enclosure
Provides removal of up to 85% of the heat of the drive through the duct work keeping internal components cooler
Separate cooling air for the power components keeps the interior of the drive clean of environmental contaminants
Protection up to IP54 / NEMA12
Dedicated Filters Available
Dedicated filters are available to minimise potential harmonic disturbance to other sensitive equipment that are connected to the same power supply.  Harmonic disturbance is an issue to be considered with high power applications.
All Danfoss' drives have built-in DC coils that minimises harmonic disturbance.  If additional filtering is specified Danfoss offers a full line of filter solutions.
Fieldbus and Software Tools
Danfoss offers numerous serial communication options and software programmes to support a wide range of applications.  Since all units in a VLT drive series utilise a common control principle, the fieldbus or software tool used to control one VLT drive can be used to control any VLT drive – regardless of power or size:
Features : menu structure and parameter structure are similar throughout the VLT family
Extending the set-up : commissioning and operation with VLT high power drives is flawless, timesaving and simple
Lower Cost of Ownership
Space savings :
The smallest high power drives on the market
Zero side clearance required on the side of the drives
Front access only is required fro installation and servicing
Built-in options
Energy Savings :
High efficiency, typically better than 98% reduces overall losses, power consumption and cooling requirements
Optimised Operation :
IP00 / Chassis , IP21 / NEMA 1 and IP54 / NEMA 12 enclosures available as standard
Options to customise the drive :
Unique duct cooling solution along with IP00 / Chassis enclosure provide a cost-effective solution to provide customising of the drive
Time savings :
Same operating software and options for the complete VLT product lines
Local control panels have the same, friendly, familiar language
Maximising uptime :
Lower component count reduces the number of spare part variants
Drives fully tested under load at the factory
Factory designed, tested, certified options increase drive reliability
Specifications
380 – 440 V
441 – 500 V
525 – 600 V
690 V
Normal OL110% torque
High OL160% torque
Normal OL110% torque
High OL160% torque
Normal OL110% torque
High OL160% torque
Normal OL110% torque
High OL160% torque
In Amps
Pn  kW
Ih Amps
Ph kW
In Amps
Pn HP
Ih Amps
Ph HP
In Amps
Pn HP
Ih Amps
Ph HP
In Amps
Pn kW
Ih Amps
Ph kW
212
110
177
90
190
150
160
125
108
100
86
75
54
45
46
37
260
132
212
110
240
200
190
150
131
125
108
100
73
55
54
45
315
160
260
132
320
250
240
200
155
150
131
125
86
75
73
55
395
200
315
160
361
300
302
250
195
200
155
150
108
90
86
75
480
250
395
200
443
350
361
300
242
250
195
200
131
110
108
90
600
315
480
250
600
450
443
350
290
300
242
250
155
132
131
110
658
355
600
315
658
500
540
450
344
350
290
300
195
160
155
132
745
400
658
355
745
600
590
500
400
400
344
350
242
200
195
160
880
500
745
400
880
650
678
600
490
500
400
400
290
250
242
200
990
560
880
500
990
700
780
650
560
550
490
500
344
315
290
250
1120
630
990
560
1120
800
890
700
630
650
560
550
400
400
344
315
1260
710
1120
630
1260
900
1050
800
730
750
630
650
490
500
400
400
1460
900
1260
710
1460
1100
1160
900
890
900
730
750
560
560
490
500
1700
1000
1460
800
1530
1250
1380
1100
1060
1100
890
900
630
630
560
560
1260
1300
1060
1100
730
710
630
630
890
800
730
710
1060
1000
890
800
1260
1200
1060
1000
VLT Software Tools
For managing drive parameters in systems the new VLT Motion Control Tool MCT 10 is the perfect tool for handling drive related data.  Improved from previous VLT software dialogue tool, the MCT 10 offers:
Project orientation one file that contains all parameter settings and user defined documents
The Explorer like interface that is user friendly
SyncPos programming in the same environment, one tool for all tasks
On-line and off-line commission
Support of different interfaces RS485, RS232, USB and Profibus (with more to come)
Import of drive settings from VLT software tools