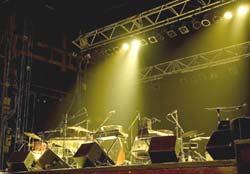 CSE Cables has an extensive range of cables in stock. We find that the time of year dictates which cable range we have the most of at that time and this year is no exception.
Due to the increased volume of outdoor events CSE Cables stocks more HO7RN-F Rubber Cables than ever before.
Not only do we have more sizes, we have in stock 1c x 1.5mm2 HO7RN-F right up to 1c x 300mm2 HO7RN-F, 3c x 1.5mm2 HO7RN-F right up to 3c x 95mm2 HO7RN-F, 4c x 1.5mm2 HO7RN-F right up to 4c x 95mm2 HO7RN-F and 5c x 1.5mm2 HO7RN-F right up to 5c x 70mm2 HO7RN-F, but we have lots more volume too.
These cables are stocked on a minimum of 5KM drums, this enables us to cut the cables down to whatever lengths the customer requires. We have the capability to cut HO7RN-F Rubber cable into anything from a 1 metre length up to a 1,000m length depending on our individual customer requirements.
Our capabilities are such that we have been known to manage 500 cuts in a day for specific customers who rely on our immediate response to their extreme demands. Despite the fact that our cables are of the highest quality in the market place today we still manage to keep the prices realistic. We manage to do so by listening to the feedback our customers give us, keeping the minimum order value low enabling us to offer a carriage paid service to any UK mainland site and not heaping on surcharge costs for the cutting service we provide (this service is provided completely free of charge).
As well as HO7RN-F the Entertainment Industry uses many different types of cable, CSE Cables recognise this and as a result another cable type we are having to stock in abundance is the Socapex Cable. There are two sizes of Socapex Cable used they are 18c x 1.5mm2 and 18c x 2.5mm2, CSE Cables has at least 20KM in stock at any one time of both sizes ready to be cut into various lengths at a moments notice.
Our factory has produced this cable specifically for the Entertainment Industry so much so that even the cores are positioned in a such a way as to ensure they marry up with the pins on the connectors allowing for speedy production. Our Socapex cable is of the highest flexibility whilst also managing to maintain it's robustness. We find this is a must for the touring companies within the Entertainment Industry, our cable can be used on different locations time and time again.
We have also had to ensure that the outer sheath of the cable has this Matt Black appearance for all the Theatre companies out there. We appreciate that whilst we like to shout about how amazing our Socapex Cable looks and feels the audience may not feel the same. As we know within the Entertainment Industry the hardest workers are always in the background grafting away out of sight, we like to feel that our cable is just the same.
Events Multi Pin Connectors
Powersafe Connector Series
Nexans Lineax ® H07RN-F Cable
Nexans Titanex 90 H07RN-F Cables
Drakaflex H07RN-F Cable