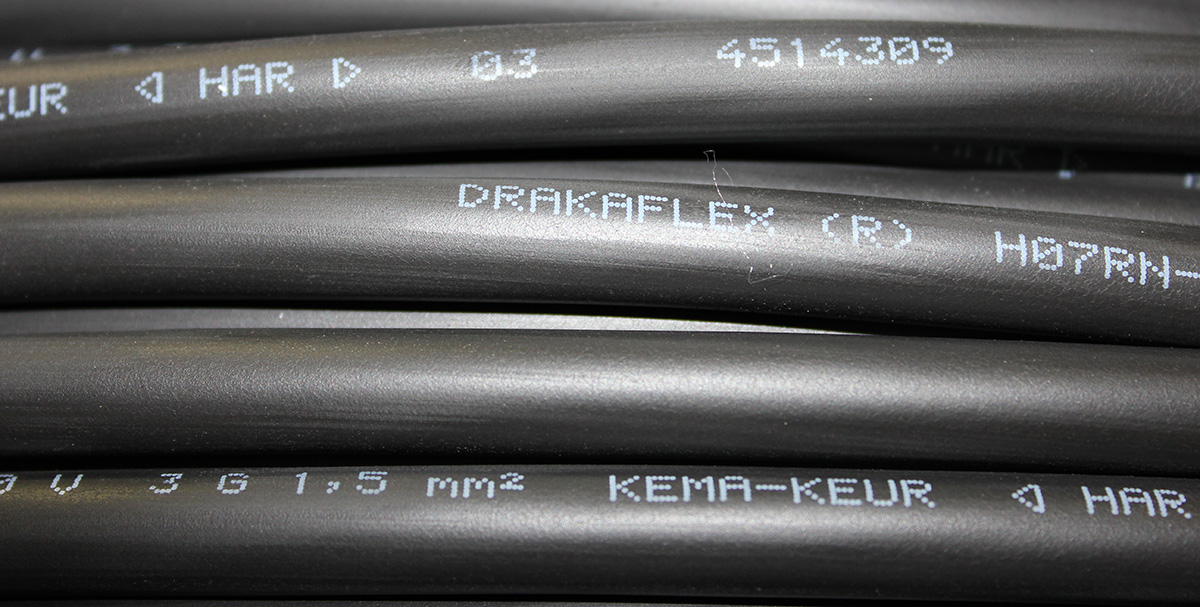 The Drakaflex H07RN-F cable is a recognised quality brand within the market place and remains so since Draka was absorbed into the Prysmian Group.
Drakaflex H07RN-F Cable Applications
Flexible connection of electrical equipment, like machines, engines, tools and other appliances in factories and workshops, in situations where medium mechanical stress occurs
The multicore types are very suitable as control cables for the connection of portable electrical appliances, especially when the cords have to endure rough usage
Suitable for use in dry, damp and wet rooms and outdoors; e.g. on farms for large cooking vats, heating plates; hand lamps, electric tools such as drilling machines, circular saws, home-workers´equipment; also for transportable motors or machines on construction sites or farms
The Drakaflex can also be suitable for permanent laying e.g. on plaster, in temporary structures and barracks; permissible for direct laying on components of hoists, machines, etc.
When permanently laid with protection in conduits or in equipment these cables may be used as rotor connecting cable of motors with a rated voltage up to 1000 V AC or a DC voltage up to 750 V to earth.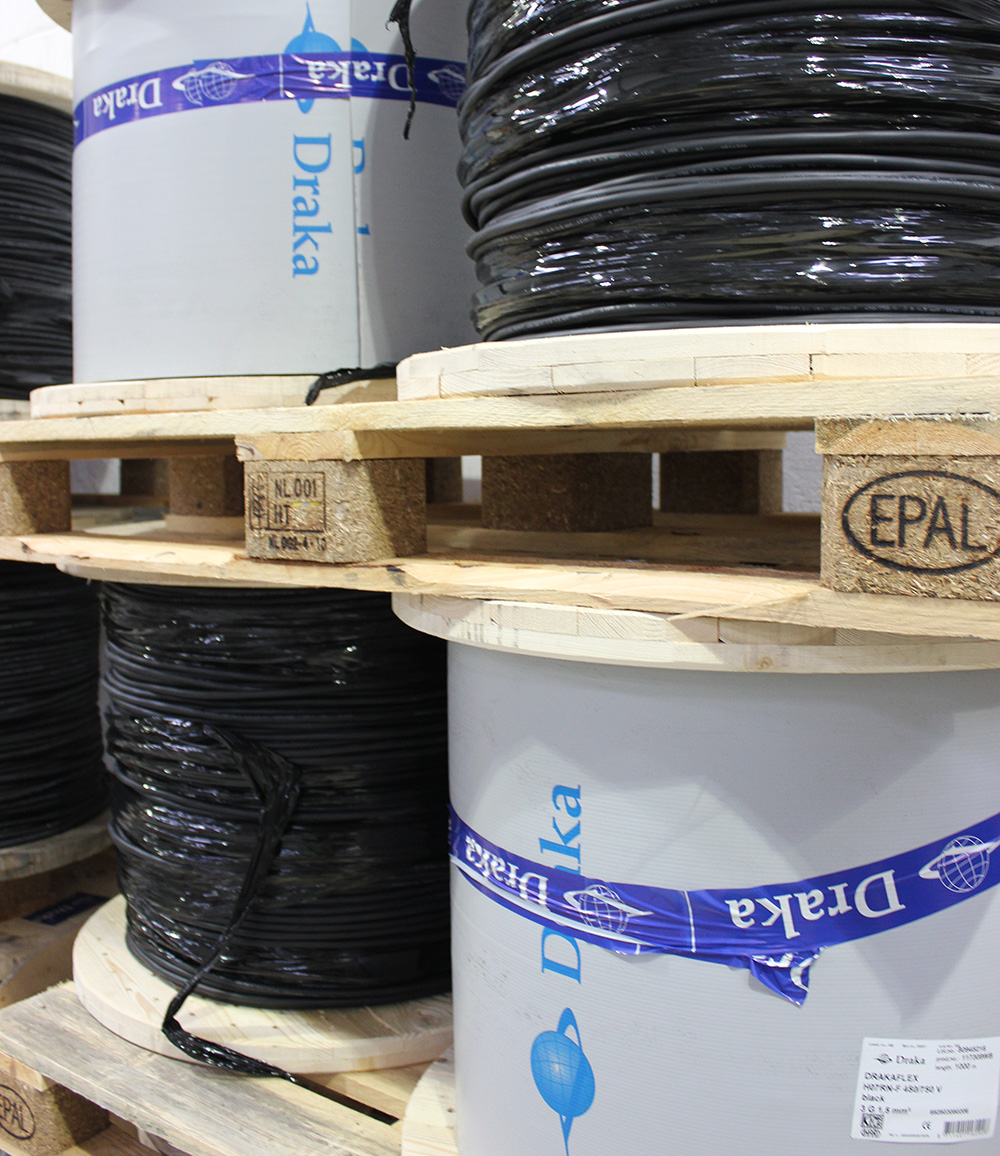 General Cable Properties
Very flexible
Strong and abrasion-resistant sheath
Excellent resistance to oil and greases
Good resistance to weather influences (including ozone)
Moderate waterproof (for water resistant applications choose NWPK AQUA)
Technical Specifications
| | |
| --- | --- |
| Approvals: | HD 22.1 and HD 22.4; DIN VDE 0282 P 1 and P 4 NEN-EN 50525; HD 22; NEN-EN-IEC 60332-1 |
| Conductor: | Flexible tinned copper (class 5) acc. to HD 383 S2 / DIN VDE 0295 |
| Assembly: | Cores cabled together |
| Insulation: | Rubber compound acc. to HD 22.1 / DIN VDE 0282 part 1 |
| Core Colours: | 1 core: black 2 cores : brown / blue 3 cores : brown, blue, green-and-yellow 4 cores: brown, black, grey, green-and-yellow 5 cores: brown, black, grey, blue, green-and-yellow Multicores: one core green-and-yellow, one core blue, other cores black |
| Nominal Voltage: | 450/750 V |
| Fire Performance: | Self-extinguishing in accordance with NEN-EN-IEC 60332-1 / acc. to EN 50265-2-1 |
| Oil resistance: | acc. to EN 60811-2-1 |
| UV-resistant: | Cable is UV-resistant |
| Sheath Colour: | Black |
| Sheath marking: | White |
| Sheath: | Rubber, compound acc. to HD 22.1 / DIN VDE 0282 Part 1 |
| Inner Sheath: | Rubber, compound acc. to HD 22.1 / DIN VDE 0282 part 1 |
| Minimum Installation Temperature: | -25°C |
| Maximum conductor temperature: | +60°C in normal duty; +85°C maximum |
| Operating temperature: | min. -25°C, max. +50°C |
Drakaflex H07RN-F Cable Ordering
| | | | | | | | | |
| --- | --- | --- | --- | --- | --- | --- | --- | --- |
| Number of cores x nominal cross section | Conductor diameter approx | Resistance max 20°C* | Insulation wall thickness nominal value | Core Diameter Approx. | Inner sheath wall thickness nom. value | Outer sheath wall thickness nom. value | Outside diameter min./max. | Approx Weight |
| mm2 | mm | Ω/km | mm | mm | mm | mm | mm | kg/km |
| 1 x 1.5 | 1.5 | 13.3 | 0.8 | 3.2 | - | 1.4 | 5.7-6.7 | 60 |
| 2 x 1.5 | Â 1.5 | 13.3 | 0.8 | 3.2 | - | 1.5 | 8.5-10.5 | 120 |
| 3 G 1.5 | 1.5 | 13.3 | 0.8 | 3.2 | - | 1.6 | 9.2-11.2 | 170 |
| 4 G 1.5 | 1.5 | 13.3 | 0.8 | 3.2 | - | 1.7 | 10.2-12.5 | 210 |
| 5 G 1.5 | 1.5 | 13.3 | 0.8 | 3.2 | - | 1.8 | 11.2-13.5 | 260 |
| 7 G 1.5 | 1.5 | 13.3 | 0.8 | 3.2 | 1.0 | 1.6 | 14.0-17.0 | 360 |
| 12 G 1.5 | 1.5 | 13.3 | 0.8 | 3.2 | 1.2 | 1.7 | 17.6-20.5 | 515 |
| 19 G 1.5 | 1.5 | 13.3 | 0.8 | 3.2 | 1.4 | 2.1 | 20.7-26.3 | 795 |
| 24 G 1.5 | 1.5 | 13.3 | 0.8 | 3.2 | 1.4 | 2.1 | 24.3-28.5 | 920 |
| 1 x 2.5 | 2.0 | 7.98 | 0.9 | 3.9 | - | 1.4 | 6.3-7.5 | 75 |
| 2 x 2.5 | 2.0 | 7.98 | 0.9 | 3.9 | - | 1.7 | 10.2-12.5 | 170 |
| 3 G 2.5 | 2.0 | 7.98 | 0.9 | 3.9 | - | 1.8 | 10.9-13.0 | 230 |
| 4 G 2.5 | 2.0 | 7.98 | 0.9 | 3.9 | - | 1.9 | 12.1-14.5 | 290 |
| 5 G 2.5 | 2.0 | 7.98 | 0.9 | 3.9 | - | 2.0 | 13.3-16.0 | 360 |
| 7 G 2.5 | 2.0 | 7.98 | 0.9 | 3.9 | 1.1 | 1.7 | 17.0-20.0 | 510 |
| 12 G 2.5 | 2.0 | 7.98 | 0.9 | 3.9 | 1.2 | 1.9 | 20.6-23.5 | 740 |
| 19 G 2.5 | 2.0 | 7.98 | 0.9 | 3.9 | 1.5 | 2.2 | 24.4-30.9 | 1190 |
| 24 G 2.5 | 2.0 | 7.98 | 0.9 | 3.9 | 1.6 | 2.3 | 28.8-33.0 | 1525 |
| 1 x 4 | 2.5 | 4.95 | 1.0 | 4.6 | - | 1.5 | 7.2-8.5 | 100 |
| 2 x 4 | 2.5 | 4.95 | 1.0 | 4.6 | - | 1.8 | 11.8-14.5 | 195 |
| 3 G 4 | 2.5 | 4.95 | 1.0 | 4.6 | - | 1.9 | 12.7-15.0 | 305 |
| 4 G 4 | 2.5 | 4.95 | 1.0 | 4.6 | - | 2.0 | 14.0-17.0 | 400 |
| 5 G 4 | 2.5 | 4.95 | 1.0 | 4.6 | - | 2.2 | 15.6-19.0 | 505 |
| 1 x 6 | 3.1 | 3.30 | 1.0 | 5.2 | - | 1.6 | 7.9-9.5 | 130 |
| 2 x 6 | 3.1 | 3.30 | 1.0 | 5.2 | - | 2.0 | 13.1-16.0 | 285 |
| 3 G 6 | 3.1 | 3.30 | 1.0 | 5.2 | - | 2.1 | 14.1-17.0 | 380 |
| 4 G 4 | 2.5 | 4.95 | 1.0 | 4.6 | - | 2.0 | 14.0-17.0 | 400 |
| 5 G 4 | 2.5 | 4.95 | 1.0 | 4.6 | - | 2.2 | 15.6-19.0 | 505 |
| 1 x 6 | 3.1 | 3.30 | 1.0 | 5.2 | - | 1.6 | 7.9-9.5 | 130 |
| 2 x 6 | 3.1 | 3.30 | 1.0 | 5.2 | - | 2.0 | 13.1-16.0 | 285 |
| 3 G 6 | 3.1 | 3.30 | 1.0 | 5.2 | - | 2.1 | 14.1-17.0 | 380 |
| 4 G 6 | 3.1 | 3.30 | 1.0 | 5.2 | - | 2.3 | 15.7-19.0 | 550 |
| 5 G 6 | 3.1 | 3.30 | 1.0 | 5.2 | - | 2.5 | 17.5-21.0 | 660 |
| 1 x 10 | 4.1 | 1.91 | 1.2 | 6.6 | - | 1.8 | 9.5-11.5 | 195 |
| 2 x 10 | 4.1 | 1.91 | 1.2 | 6.6 | 1.2 | 1.9 | 17.7-21.5 | 565 |
| 3 G 10 | 4.1 | 1.91 | 1.2 | 6.6 | 1.3 | 2.0 | 19.1-22.5 | 715 |
| 4 G 10 | 4.1 | 1.91 | 1.2 | 6.6 | 1.4 | 2.0 | 20.9-24.5 | 875 |
| 5 G 10 | 4.1 | 1.91 | 1.2 | 6.6 | 1.4 | 2.2 | 22.9-27.0 | 1095 |
| 1 x 16 | 5.3 | 1.21 | 1.2 | 7.7 | - | 1.9 | 10.8-13.0 | 280 |
| 2 x 16 | 5.3 | 1.21 | 1.2 | 7.7 | 1.3 | 2.0 | 20.2-23.5 | 795 |
| 3 G 16 | 5.3 | 1.21 | 1.2 | 7.7 | 1.4 | 2.1 | 21.8-25.5 | 1040 |
| 4 G 16 | 5.3 | 1.21 | 1.2 | 7.7 | 1.4 | 2.2 | 23.8-28.0 | 1280 |
| 5 G 16 | 5.3 | 1.21 | 1.2 | 7.7 | 1.5 | 2.4 | 26.4-31.0 | 1610 |
| 1 x 25 | 6.3 | 0.780 | 1.4 | 9.4 | - | 2.0 | 12.7-15.0 | 405 |
| 4 G 25 | 6.3 | 0.780 | 1.4 | 9.4 | 1.6 | 2.5 | 28.9-33.0 | 1890 |
| 5 G 25 | 6.3 | 0.780 | 1.4 | 9.4 | 1.7 | 2.7 | 32.0-36.0 | 2335 |
| 1 x 35 | 7.6 | 0.554 | 1.4 | 10.4 | - | 2.2 | 14.3-17.0 | 545 |
| 4 G 35 | 7.6 | 0.554 | 1.4 | 10.4 | 1.7 | 2.7 | 32.5-36.5 | 2530 |
| 1 x 50 | 9.2 | 0.386 | 1.6 | 12.6 | - | 2.4 | 16.5-19.5 | 730 |
| 4 G 50 | 9.2 | 0.386 | 1.6 | 12.6 | 1.9 | 2.9 | 37.7-42.0 | 3350 |
| 1 x 70 | 11.2 | 0.272 | 1.6 | 14.6 | - | 2.6 | 18.6-22.0 | 955 |
| 4 G 70 | 11.2 | 0.272 | 1.6 | 14.6 | 2.0 | 3.2 | 42.7-47.0 | 4785 |
| 1 x 120 | 14.6 | 0.161 | 1.8 | 18.4 | - | 3.0 | 22.8-26.5 | 1560 |
| 4 G 120 | 14.6 | 0.161 | 1.8 | 18.4 | 2.4 | 3.6 | 53.0-59.0 | 7550 |
| 1 x 150 | 16.2 | 0.129 | 2.0 | 20.4 | - | 3.2 | 25.2-29.0 | 1925 |
| 4 G 150 | 16.2 | 0.129 | 2.0 | 20.4 | 2.6 | 3.9 | 58.0-64.0 | 8495 |
| 1 x 185 | 17.9 | 0.106 | 2.2 | 22.5 | - | 3.4 | 27.6-31.5 | 2230 |
| 1 x 240 | 20.6 | 0.0801 | 2.4 | 25.6 | - | 3.5 | 30.6-35.0 | 2945 |
| 1 x 300 | 23.0 | 0.0641 | 2.6 | 28.2 | - | 3.6 | 33.5-38.0 | 3495 |
| 1 x 400 | 26.0 | 0.0476 | 2.8 | 31.8 | - | 3.8 | 38.0-42.0 | 4420 |
| 1 x 500 | 23.0 | 0.0641 | 3.0 | 35.4 | - | 4.0 | 33.5-38.0 | 5515 |
| 1 x 630 | 34.0 | 0.0287 | 3.0 | 40.5 | - | 4.1 | 45.5-51.0 | 7020 |
*valid for untinned conductors