ABB ACS55 0.18 to 2.2kW / 0.25 to 3 hp
The ABB ACS55 component drive meets the requirements of OEMs, installation companies and panel builders. These drives are components that are bought together with other components from a logistical distributor. The drives are stocked, and the number of options and, variants is optimised for logistical distribution.
ACS55 Component Drive Highlights
Descriptive interface
Compact and slim
Fast and safe drive configuration with DriveConfig kit
Ideal for DIN-rail mounting
Suitable for domestic environment as standard
Silent motor
ABB ACS55 Applications
Fans
Pumps
Gate Control
Material Handling
Conveyors
ACS55 Voltage and power range
1-phase, 110 to 120 V +10/-15% : 0.18 to 0.37 kW (0.25 to 0.5 hp)
1-phase, 200 to 240 V +10/-15% : 0.18 to 2.2 kW (0.25 to 3 hp)
ACS55 Options
Input / Output Chokes
Potentiometer
DriveConfig kit
| | | |
| --- | --- | --- |
| Features | Benefits | Notes |
| Descriptive Interface | Faster set-upEasier configuationEasier drive for new users | Basic parameter settings are done with DIP switches and potentiometers |
| Compact and Slim | Less space required fro installation | 0.18 to 0.37 kW 45mm width0.75 kW 67.5 mm width1.5 to 2.2 kW 70mm width |
| DriveConfig Kit | Fast and safe configuration of unpowered drives | New drive configuration tool for volume manufacturing |
| Removable mounting clip | Flexible and simple mounting | Removable clip allows DIN rail and wall mounting from back and side of the unit |
| EMC | Low EMC emissions | 1st environmentEMC filters as standard |
| Automatic switching frequency | Provides lowest possible noise without decreased derating of the drive | Increases switching frequency automatically, when drive temperature is decreased |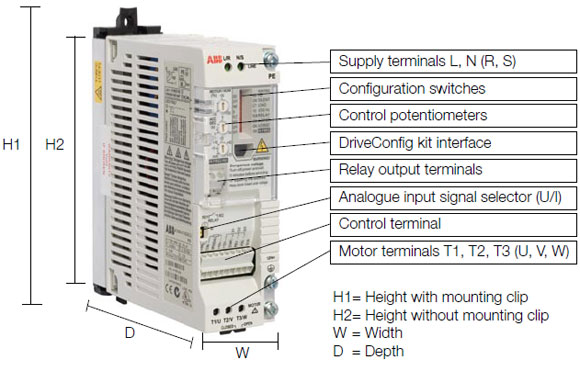 ACS55Â  DriveConfig Kit
The DriveConfig kit is a PC tool for volume configuration and control of ACS55 drives. The kit enables parameter setting and software updating without the need for a power connection. The drives can even remain in their delivery boxes during configuration. The DriveConfig kit features on-line drive control and monitoring of up to four signals
simultaneously. Together with ACS55 drives, the DriveConfig kit brings additional value to processes by saving time and ensuring safety.
DriveConfig kit includes:
Hardware and cables
PC software
User manual in English (hardcopy and PDF)
Battery charger
Serial port / USB adapter
DriveConfig kit requirements:
PC with Microsoft Windows 2000/XP operating system
Free serial or USB port from the PC
ACS55 Supporting Literature