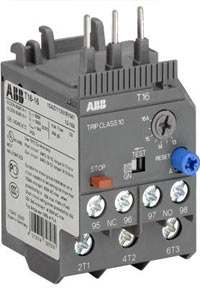 Thermal overload relays are economic electromechanical protection devices for the main circuit. They are used mainly to protect motors against overload and phase failures. Starter combinations are setup together with contactors. Suitable for the B6/B7/VB6/VB7 mini contactors and AS block contactors (phone).
Description
Overload protection – trip class 10
Phase loss sensitivity
Temperature compensation from -25 to +60 °C
Adjustable current setting for overload protection
Automatic or manual reset selectable
Suitable for three- and single-phase application
Trip-free mechanism
Status indication
STOP and TEST function
Direct mounting onto mini contactors or block contactors
Application / internal function
The thermal overload relays are three pole relays with bimetal tripping elements (1 per pole). The motor current flows through the bimetal tripping elements and heats them directly and indirectly. In case of an overload (over current), the bimetal elements become bent as a result of the heating. This leads to a release of the relay and a change of the contacts switching position (95-96 / 97-98). The contact 95-96 is used to control the load contactor.
The overload relays have a setting scale in Amperes, which allows the direct adjusting of the relay without any additional calculation. In compliance with international and national standards, the setting current is the rated current of the motor and not the tripping current (no tripping at 1.05 x I, tripping at 1.2 x I; I = setting current). The relays are constructed in way that they protect themselves in the event of an overload. The overload relay has to be protected against short-circuit.
Type
Setting range
Resistance per pole
Power loss
Short-circuit
protection device
Order Code
lower value
A
upper value
A
©
at lower value
W
at upper value
W
coordination
type 2
T16-0.13
0.10
0.13
106.51
1.1
2.0
0.5 A, Type T
1SAZ711201R1005
T16-0.17
0.13
0.17
62.28
1.1
2.0
1.0 A, Type T
1SAZ711201R1008
T16-0.23
0.17
0.23
37.43
1.1
2.0
1.0 A, Type T
1SAZ711201R1009
T16-0.31
0.23
0.31
20.60
1.1
2.0
1.0 A, Type T
1SAZ711201R1013
T16-0.41
0.31
0.41
11.42
1.1
2.0
2.0 A, Type gG
1SAZ711201R1014
T16-0.55
0.41
0.55
6.35
1.1
2.0
2.0 A, Type gG
1SAZ711201R1017
T16-0.74
0.55
0.74
3.62
1.1
2.0
4.0 A, Type gG
1SAZ711201R1021
T16-1.0
0.74
1.00
1.920
1.1
2.0
6.0 A, Type gG
1SAZ711201R1023
T16-1.3
1.00
1.30
1.065
1.1
2.0
6.0 A, Type gG
1SAZ711201R1025
T16-1.7
1.30
1.70
0.623
1.1
2.0
10.0 A, Type gG
1SAZ711201R1028
T16-2.3
1.70
2.30
0.340
1.1
2.0
10.0 A, Type gG
1SAZ711201R1031
T16-3.1
2.30
3.10
0.187
1.1
2.0
10.0 A, Type gG
1SAZ711201R1033
T16-4.2
3.10
4.20
0.102
1.1
2.0
20.0 A, Type gG
1SAZ711201R1035
T16-5.7
4.20
5.70
0.059
1.1
2.0
20.0 A, Type gG
1SAZ711201R1038
T16-7.6
5.70
7.60
0.031
1.1
2.0
35.0 A, Type gG
1SAZ711201R1040
T16-10
7.60
10.00
0.0193
1.1
2.0
35.0 A, Type gG
1SAZ711201R1043
T16-13
10.00
13.00
0.0131
1.3
2.2
40.0 A, Type gG
1SAZ711201R1045
T16-16
13.00
16.00
0.0078
1.3
2.2
40.0 A, Type gG
1SAZ711201R1047
Technical Data
Main Circuit
Rated operational voltage Ue
690 V a.c.; – V d.c.
Trip Class
10
Rated frequency
50/60 Hz
Number of poles
3
Isolation data
2T1-4T2-6T3
Rated impulse withstand voltage Uimp
6 kV
Rated insulation voltage Ui
690 V
Pollution degree
3
Electrical connection
2T1-4T2-6T3
Connecting capacity
Solid
1/2 x 0.75 … 1.5 mm²
1/2 x 1.5 … 4 mm²
Stranded
1/2 x 1 … 4 mm²
flexible with ferrule
1/2 x 0.75 … 4 mm²
flexible with ferrule insulated
1/2 x 0.75 … 4 mm²
flexible without ferrule
1/2 x 0.75 … 4 mm²
Stripping length
12 mm
Tightening torque
1.1 … 1.5 Nm
Connection screw
M4 (Pozidrive 2)