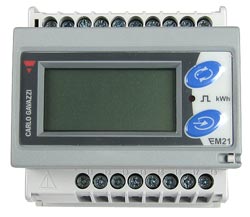 CSE is delighted to be stocking and promoting the new Carlo Gavazzi EM21-72D Energy Meter. With today's energy conscious world, this high quality product is ideal for the building automation and industry markets.
The Carlo Gavazzi Energy Meter is a three phase energy meter with removable front LCD display unit. The same unit can be used either as a DIN-rail mounting or a panel mounting energy meter.
This general purpose three phase energy meter is suitable for both active and reactive energy metering for cost allocation but also for main electrical parameter measurement and retransmission (transducer function). Housing for DIN rail mounting with IP50 (front) protection degree. Current measurements carried out by means of external current transformers and voltage measurements carried out either by means of direct connection or by means of potential transformers.
EM21-72D is provided as standard with a pulsating output for active energy retransmission.  In addition, a 2 wire RS485 communication port is available as an option.
Energy Meter – Features and Benefits
| | |
| --- | --- |
| Benefit | Feature |
| Inventory Reduction | Detachable display allowing three installation modes: Din-rail energy meter, panel mounting, energy meter and transducer |
| Space Optimisation | Compact size (4-Din modules or 72 x 72 mm panel mounting) for space saving also in panel boards |
| Minimising Energy Costs | Application adaptable energy metering for detailed cost allocation and analysis |
| Communication Capabilities | Pulsing output for simple and quick data transmission to PC / PLC for full load control; RS485 communication port for full BMS integration |
| Simplified Set-Up | Application-orientated programming procedure (Easyprog function) and simple connections management |
| Tamper Resistant | MID compliant product, with tamper proof features |
Application – Low Voltage Distribution System
The low voltage distribution systems require to maximise stacking density to minimise the switchgear or control-gear footprint. Each unit includes an incoming feeder and several outgoing units (each of which is supplying a part of a building, a single department, or a group of loads) hanging a reduced size.
An outgoing unit is connected through a bus-bar system to the mains, and has its own main switch in order to connect / disconnect the whole loads fed by it.
It would be very useful to have the possibility to monitor the voltage in any outgoing unit, to control other electrical variables and to get the energy consumptions data directly from an instrument on the unit front panel, even if the available space is very limited.
The compact size of EM21-72D is the ideal solution "where there is no room enough" exploiting in the best way the space on the panel and behind it. Used in combination with our new CTD-series (The compact current transformers) it offers a complete solution for energy management in MCC's and PCC's.
The additional RS485 allows a full BMS integration providing to the user all necessary information relevant to the system.  The patented detachable display allows EM21-72D to be mounted as a transducer as well.
Energy Meter Summary
EM21-72D is a compact three phase energy meter that can be used either for panel mounting (only 72x72mm) or for DIN rail mounting, thanks to its patented detachable display.
EM21-72D is a very simple, compact and simple to install energy meter
EM21-72D is an energy meter for both BMS and cost allocation applications
Carlo Gavazzi Technical Datasheet
Follow the link to download the technical datasheet for the Carlo Gavazzi EM21-72D and how it is used with the Building Regulations Part L2A/B.