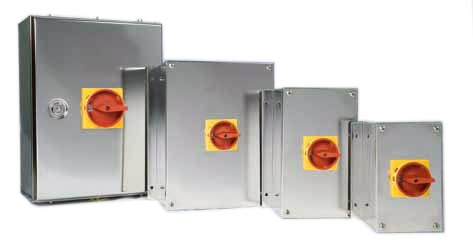 Enclosed Isolators – A range of enclosed 3, 4 and 6 pole Stainless Steel Main / Emergency-Off switches suitable for use as Local Isolators. (particularly suitable for food production areas)..
Grade S316 Stainless Steel enclosure material.
Padlockable red and yellow handle. (black handle available to order)
Earth terminal and lid earthing link included
Switch interlocked with lid to prevent opening in 'on' position (optional extra for 20amp / 32amp 3 / 4 pole)
External mounting brackets included with type SB8 & SB9 enclosure.
Enclosed Switch Ratings
Rated Operational Power:
Category AC23A, 3 Phase, 380-440V 50/60 Hz.  Expressed in (KW).
Category AC21A at max 690V. Expressed in (A).
Ie AC21A
Order Ref…. 3 Pole
Order Ref….3 Pole+ Aux
ENCL. REF
20A
KG 10 T203/GBA409*SB1
KG 10 T203/GBA458*SB1
SB1
25A
KG 20 T203/GBA409*SB1
KG 20 T203/GBA459*SB1
SB1
32A
KG 32 T203/GBA409*SB1
KG 32 T203/GBA459*SB1
SB1
40A
KG 41 T203/GBA409*SB2
KG 41 T203/GBA459*SB2
SB2
55A
KG 64 T203/GBA409*SB2
KG 64 T203/GBA459*SB2
SB2
80A
KG 80 T203/GBA409*SB3
KG 80 T203/GBA459*SB3
SB3
100A
KG100 T203/GBA409*SB3
KG100 T203/GBA459*SB3
SB3
125A
KG126 T203/GBA460*SB8
SB8
160A
KG161 T203/GBA460*SB8
SB8
250A
KG251 T203/GBA450*SB9
SB9
315A
KG316 T203/GBA450*SB9
SB9
Ie AC21A
Order Ref…. 4 Pole
Order Ref….4 Pole+ Aux
ENCL. REF
20A
KG 10 T204/GBA509*SB1
KG 10 T204/GBA558*SB1
SB1
25A
KG 20 T204/GBA509*SB1
KG 20 T204/GBA559*SB1
SB1
32A
KG 32 T204/GBA509*SB1
KG 32 T204/GBA559*SB1
SB1
40A
KG 41 T204/GBA509*SB2
KG 41 T204/GBA559*SB2
SB2
55A
KG 64 T204/GBA509*SB2
KG 64 T204/GBA559*SB2
SB2
80A
KG 80 T204/GBA509*SB3
KG 80 T204/GBA559*SB3
SB3
100A
KG100 T204/GBA509*SB3
KG100 T204/GBA559*SB3
SB3
125A
KG126 T204/GBA560*SB8
SB8
160A
KG161 T204/GBA560*SB8
SB8
250A
KG251 T204/GBA560*SB9
SB9
315A
KG316 T204/GBA550*SB9
SB9
Ie AC21A
Order Ref…. 6 Pole
Order Ref….6 Pole+ Aux
ENCL. REF
25A
KG20B T206/GBA609*SB2
KG20BT206/GBA659*SB2
SB2
32A
KG32B T206/GBA609*SB2
KG32BT206/GBA659*SB2
SB2
40A
KG41B T206/GBA609*SB3
KG41BT206/GBA659*SB3
SB3
63A
KG64B T206/GBA609*SB3
KG64BT206/GBA659*SB3
SB3
80A
KG 80Â  T206/GBA609*SB4
KG 80 T206/GBA659*SB4
SB4
100A
KG100 T206/GBA609*SB4
KG100T206/GBA659*SB4
SB4
125A
KG126T206/GBA660*SB9
SB9
160A
KG161T206/GBA660*SB9
SB9
Click for the Kraus and Naimer enclosed switches brochure.