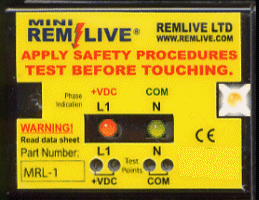 The MRL-1 is designed to fit inside a control panel or switch and mounts on standard DIN rail.
The MRL-1 consists of a polycarbonate enclosure, which contains a series of LED's and a legend displaying the following conditions for single phase circuits.
Phase and Neutral indication
Indication of any voltage present between 24v and 420v ac / 24v and 600v dc
A safety message with instructions
The MRL-1 contains electronic circuits which connect via terminals and user wiring to a point as close as possible to the point of the electrical supply to be monitored – usually immediately after the disconnect switch or on terminal rails where voltages come into one control panel, but are fed from another.