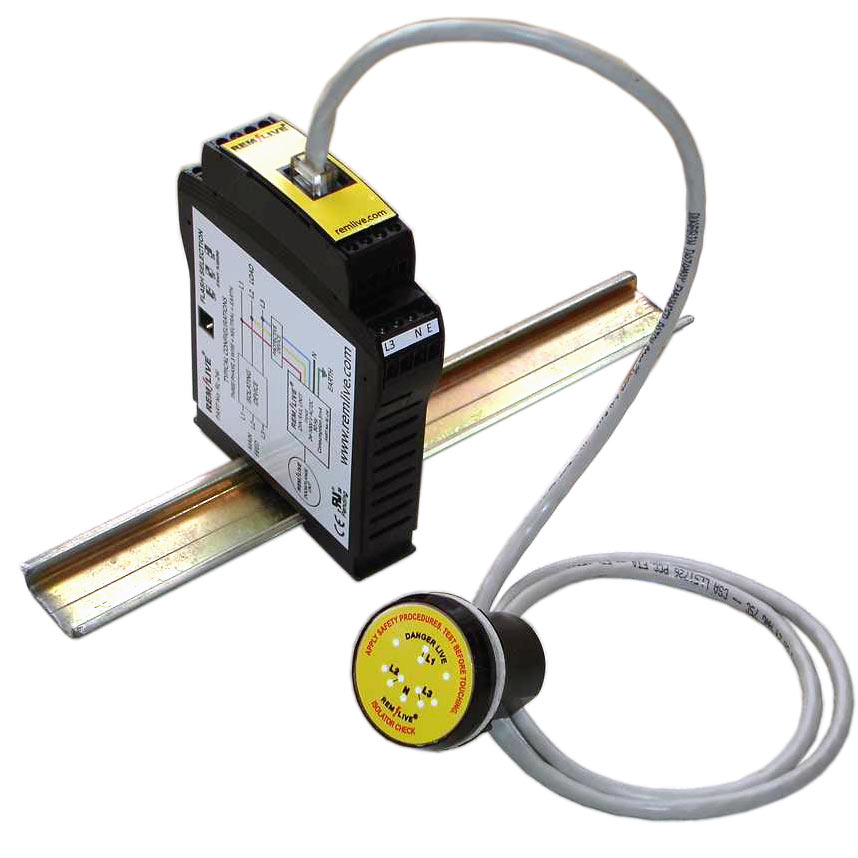 The Remlive RL-24i is an isolator / disconnect check is the most recent addition to the Remlive range of circuit protection and electrical safety warning products. The purpose of the RL-24i is to provide Confirmation of Correct Isolation. The kit comprises two units, one panel door or flange mounting and one din rail mounting. The door unit is designed to fit through the front of a control panel or switch and occupies a standard 30.5mm pushbutton hole. It is rated at IP 65 for Europe and NEMA 4X for USA. The front face of the Remlive 24i is clear polycarbonate material, behind are a series of LED's and a legend displaying the following conditions.
Phase (Dual LED's) and Neutral (Single LED) indication.
Any voltage present between 24v and 1,000v ac / 1,000v dc – including floating or borrowed neutral voltage, and stored energy, will activate the appropriate LED's.
Two sets of Dual LED's – User selectable for: On – Flashing, On-Steady or OFF
Three sets of Dual Phase LED's – Monitor individual phase lines.
An important safety message and instructions.
As it has the format of a pushbutton, a legend plate to show additional user preference information or a more complex safety message can be added. The Remlive 24i contains three independent electronic circuits and the mains voltage connection is via terminals on the Din Rail unit, which connects to the electrical supply as close as possible to the isolation point. The Din Rail unit connects to the Door Unit via an RJ45 cable. Door and Din Rail units are totally electrically isolated for additional safety.
The concept of operation is that when the power supply is in the "ON" state then the LED displays on the face of the Remlive 24i would be illuminated with some factory set flashing LED's to attract attention. These LED's would remain operational until all voltage has decayed to less than 24v on all connections including the Neutral. If the neutral floats above 24volts, even when phase lines are correctly isolated, the unit will indicate the presence of this potentially dangerous voltage to earth.
So the person performing the isolation can see that the Remlive 24i is functional with the power on and see a positive change of state, after correct isolation. Remlive 24i will continue to give some form of illumination until all connections are below 24 volts, including Stored Energy.
VISIT OUR ONLINE SHOP TO BUY THE RL-24i TODAY.
Technical Information
| | |
| --- | --- |
| Voltage Range: | 24 – 1,000 vac (50 / 60 Hz), 26 – 1,000vdc |
| Current (voltage dependent): | 10 mA (max) |
| Environmental Specification: | IP65 |
| Material: | Plastic (V0 rated) |
| Approvals: | CE, (UL/ CSA Pending) |
| Mounting: Panel unit | Din Rail |
| Mounting: Door / Flange unit: | 30.5mm ratcheted body with locknut and washer |
| Din Rail unit to Door / Flange unit Connection: | RJ45 cable operating at 3.9 volts DC |