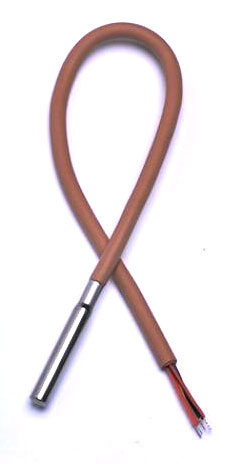 The Danfoss MBT 153 is a heavy-duty temperature sensor that can be used for controlling cooling water and ventilation systems within general industry and marine applications.
This temperature sensor is based on a standardized Pt100 or Pt1000 element, which gives a reliable and accurate measurement. On request the MBT 153 can also be delivered with NTC/PTC elements.
The sensor is based on a stainless steel housing with a cable, which makes the sensor extremely flexible.
The MBT 153 can be combined with a sensor pocket to protect the silicone cable from the media. The MBT 153 has a PVC or silicone cable as standard but it can be delivered with teflon cable on request. Temperature range -50 to +200°C
Short response times
Pt100 or Pt1000 resistance element
2- or 4-wire connection
Click for the Danfoss MBT 153 Technical PDF Brochure
Technical Data
Max ambient temperature :

PVC wired version : 100°C

Silicone version : 200°C

Enclosure :
IP67
Materials :
Cable : PVC 2 x 0.2mm2. Silicone 2 x 0.2mm2 (2 wire) silicone 4 x 0.14mm2 (4 wire)
Sensor pocket : AISI 316T (MBT 5253)
Response times (t0.9:
33 sec (water at 0.2 m/s).  With heat conductive compound, 041E0110: 10 sec.
MBT 153 – Temperature sensor, cable type, industrial
| | | | | | |
| --- | --- | --- | --- | --- | --- |
| Code No. | Product | Cable | Sensor element PT | Cable length (M) | Connection Wire |
| 084Z6030 | MBT 153 | PVC Max. 100oC | 100 | 3.5 | 2 |
| 084Z6031 | MBT 153 | PVC Max. 100oC | 100 | 5.5 | 2 |
| 084Z6032 | MBT 153 | PVC Max. 100oC | 100 | 8.5 | 2 |
| 084Z6033 | MBT 153 | PVC Max. 100oC | 1000 | 3.5 | 2 |
| 084Z6034 | MBT 153 | PVC Max. 100oC | 1000 | 5.5 | 2 |
| 084Z6035 | MBT 153 | PVC Max. 100oC | 1000 | 8.5 | 2 |
| 084Z6036 | MBT 153 | Silicone max 200oC | 100 | 3.5 | 2 |
| 084Z6037 | MBT 153 | Silicone max 200oC | 100 | 5.5 | 2 |
| 084Z6038 | MBT 153 | Silicone max 200oC | 100 | 8.5 | 2 |
| 084Z6039 | MBT 153 | Silicone max 200oC | 1000 | 3.5 | 2 |
| 084Z6040 | MBT 153 | Silicone max 200oC | 1000 | 5.5 | 2 |
| 084Z6041 | MBT 153 | Silicone max 200oC | 1000 | 8.5 | 2 |
| 084Z6215 | MBT 153 | Silicone max 200oC | 100 | 3.5 | 4 |
| 084Z6042 | MBT 153 | Silicone max 200oC | 100 | 5.5 | 4 |
| 084Z6216 | MBT 153 | Silicone max 200oC | 100 | 8.5 | 4 |