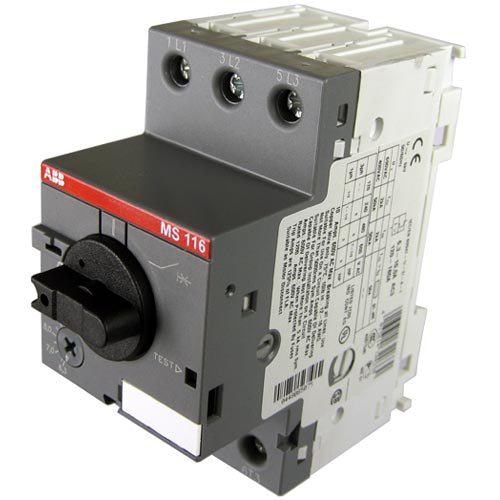 We hold stocks of Contactors, Thermal overload relays, Manual Motor Starters, Soft starters, Inverters and Control devices such as lamps and pushbuttons. CSE have been distributing ASEA and Brown Boveri products since 1971 and have unrivalled experience in the range of products now offered in the UK.
Manual motor starter type MS116
Manual motor starters from ABB switch motors ON and OFF properly and protect them in case of overload and short circuit. The range covers motors with nominal current from 0.1A up to 100A.
If you are a Schiele customer, follow the link to an Excel conversion table.
Open design, enclosure IP 20 resistant to changeable climates. Quick fastening on mounting rails DIN EN 50 022, 35mm without auxiliary switch.
Click to buy the ABB Manual Motor Starters on-line.
MS 116 with thermal and electromagnetic trips, short circuit proof up to 50 kA
Rated Power
Setting Range
Type
Order No.
Short Circuit breaking Capacity
Rated Instantaneous
400 V AC-3
kW
A… A




Ics at 400 V AC
kA
short circuit setting
A
0.03
0.10 … 0.16
MS116-0.16
1SAM 250 000 R 1001
50
1.25 … 1.87
0.06
0.16 … 0.25
MS116-0.25
1SAM 250 000 R 1002
50
1.95 … 2.92
0.09
0.25 … 0.40
MS116-0.4
1SAM 250 000 R 1003
50
3.12 … 4.68
0.12
0.40 … 0.63
MS116-0.63
1SAM 250 000 R 1004
50
4.91 … 7.37
0.25
0.63 … 1.00
MS116-1.0
1SAM 250 000 R 1005
50
9.20 … 13.8
0.55
1.00 … 1.60
MS116-1.6
1SAM 250 000 R 1006
50
14.7 … 22.1
0.75
1.60 … 2.50
MS116-2.5
1SAM 250 000 R 1007
50
23.0 … 34.5
1.5
2.50 … 4.00
MS116-4
1SAM 250 000 R 1008
50
40.0 … 60.0
2.2
4.00 … 6.30
MS116-6.3
1SAM 250 000 R 1009
50
63.0 … 94.5
4
6.30 … 10.00
MS116-10
1SAM 250 000 R 1010
50
120 … 180
5.5
10.00 … 16.00
MS116-16
1SAM 250 000 R 1011
16
192 … 288
7.5
8.00 … 12.0
MS116-12
1SAM 250 000 R1012
25
144 … 216
Technical Data
Standards
Conformity to standards




IEC / EN60947-1, IEC/EN60947-2, IEC/EN60947-4-1, UL 508, CSA C22.2 No. 14


Phase loss sensitivity
(acc. to IEC / EN 60947-4-1)
Yes


Disconnecting feature
(acc. to IEC / EN 60947-2)
Yes
General Data
Mounting position




Position 1-6


Degree of Protection
(acc. to IEC 60947-1)
IP20


Mechanical Durability




100000 cycles


Electrical Durability




100000 cycles


Utilisation Category




A
IEC
Rated Operational Voltage Ue




Main Circuit
Rated Operational voltage Ue


690 V AC


Rated Frequency




50 / 60Hz


Trip Class




10A
Isolation Data
Rated impulse withstand voltage Uimp


6kV
(acc. to IEC / EN 60947-1)
Rated insulation voltage Ui


690 V
Environmental Data
Ambient Air Temperature






Operation
Open – Compensated
-25 … +55oC




Open


-25 … +70oC




Enclosed (IB132)


0 … +40oC


Storage




-50 … +80oC


Vibration
(acc. to IEC / EN 60068-2-6)
5 g / 3-150Hz


Shock
(acc. to IEC/EN 60068-2-27)
25g / 11 ms
Connecting Capacity
Rigid


1 or 2 x
1 … 4 mm2
Flexible with ferrule


1 or 2 x
0.75 … 2.5mm2


Flexible without ferrule


1 or 2 x
0.75 … 2.5mm2


Stripping length




9mm


Tightening torque




0.8 … 1.2Nm
UL / CSA








Main circuit
Max operational voltage


600 V AC


Short circuit rating
480 V AC
0.16AIe 2.5A
30 kA




600 V AC


5 kA
Connecting Capacity
Stranded


1 or 2 x
AWG 16… 12
Flexible without ferrule
1 or 2 x
AWG 16… 12


Stripping length




9mm


Tightening torque




10lb. in
Accessories
Type


Order No.
Auxiliary switches, for front panel installation
HKF1-11
1 NO + 1 NC
1SAM 201 901 R 1001


Auxiliary switches, lateral attachment at right
HK1-11
1 NO + 1 NC
1SAM 201 902 R 1001
HK1-20
2 NO
1SAM 201 902 R 1002
HK1-02
2 NC
1SAM 201 902 R 1003


Signal contact for general "tripped" signal, lateral attachment at right
SK1-11
1 NO + 1 NC
1SAM 201 903 R 1001
SK1-20
2 NO
1SAM 201 903 R 1002
SK1-02
2NC
1SAM 201 903 R 1003


Undervoltage release, lateral attachment at left
UA1-24
24V, 50Hz
1SAM 201 904 R 1001
UA1-230
230V, 50Hz
1SAM 201 904 R 1005


Undervoltage release with pre-mating auxiliary switch 2S, lateral attachment at left
UA1-HK-24
24V, 50 Hz
1SAM 201 905 R 1001
UA1-HK-230
230V, 50 Hz
1SAM 201 905 R 1005


Locking Device
SA1
Lock adapter
GJF1 101 903 R 0001
SA3
Locking device assy
GJF1 101 903 R 0001


Direct Adapter, for wiring to contactors
BEA7 / 116
Mini contactors B6 / B7
1SBN 080 906 R 1000
BEA16 / 116
Contactors A9 / A12 / A16
1SBN 081 406 R 1000
BEA26 / 116
Contactors A26
1SBN 082 406 R 1000


Phase Buses for cross wiring MS 116, 63A, 690V
PS1-2-0 for 2 devices without auxiliary switches
1SAM 201 906 R 1002
PS1-3-0 for 3 devices without auxiliary switches
1SAM 201 906 R 1003
PS1-4-0 for 4 devices without auxiliary switches
1SAM 201 906 R 1004
PS1-5-0 for 5 devices without auxiliary switches
1SAM 201 906 R 1005
PS1-2-1 for 2 devices with 1 auxiliary switch
1SAM 201 906 R 1012
PS1-3-1 for 3 devices with 1 auxiliary switch
1SAM 201 906 R 1013
PS1 4-1 for 4 devices with 1 auxiliary switch
1SAM 201 906 R 1014
PS1-5-1 for 5 devices with 1 auxiliary switch
1SAM 201 906 R 1015
PS1-2-2 for 2 devices with 2 auxiliary switches
1SAM 201 906 R 1022
PS1-3-2 for 3 devices with 2 auxiliary switches
1SAM 201 906 R 1023
PS1-4-2 for 4 devices with 2 auxiliary switches
1SAM 201 906 R 1024
PS1-5-2 for 5 devices with 2 auxiliary switches
1SAM 201 906 R 1025


Power infeed blocks 63A, 690V, stranded 25mm2, flexible 16mm2
S1-M2 high
1SAM 201 907 R 1002




Cover for phase busses
BS1-3
1SAM 201 908 R 1001


Switch cubicle mounting kit IP 65, with axial extension triple lockable in Off position, locked in On position
OHY2AJM
Twist knob red / yellow
1SCA 022 384 R 7080
OXS5X180
Axis 180mm
1SCA 022 353 R 4620
MSMN Driver*


1SAM 101 923 R 001
*For accommodating spindle and attachment to manual motor starter