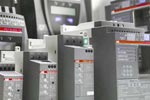 From the moment the first electrical motors appeared, engineers have been searching a way to avoid electrical and mechanical problems that occur using Direct-on-Line and Star-Delta starters. ABB has been producing softstarters since the beginning of the 1980's.
The valuable experience gained since the early 80's has been incorporated into the design of today's product ranges. With the latest series named PST, ABB has taken a significant step further in soft starting technology. Matching modern power electronics with smart circuitry and software, the new PST softstarter offers superior electronic control of the current and voltage during motor start-up, in addition to several new design features.
ABB offers wide ranges of softstarters to cover every customers need for solutions. The complete softstarter range covers all motor applications from 3 A to 1810 A used in a main voltage between 208 V to 690 V AC.
PSR – The compact range, 3.9A to 105 A
PSS – The flexible range 18 to 300 A. (Inside Delta 515 A)
PSE – Efficient compact softstaters with torque control 18A – 370A
PST(B) – The advanced range 30 to 1050 A. (Inside Delta 1810 A)
The solution to both mechanical and electrical problems
AC motors, the workhorse of the industry, that are used to drive fans, crushers, agitators, pumps, conveyors etc., are unnecessarily causing unwanted load peaks day in and day out in production plants all over the world. These violent starts cause damage in several ways. Among them are:
Electrical problems due to voltage and current transients arising from Direct-on-Line or Star-Delta starts. Such transients may overload the local supply network and cause unacceptable voltage variations that interfere with other electrical equipment connected to the network.
Mechanical problems that address the entire drive chain, from motor to driven equipment, to severe stress.
Operational problems, such as pressure surges in pipelines, damage to products on conveyor belts and uncomfortableescalator rides.
The financial consequences are considerable: every technical problem and every breakdown, costs money in terms of repairs as well as lost production.
The simple solution to all of these problems is to install an ABB Softstarter type PSR, PSS or PST. With ABB Softstarters, it is possible to start and stop smoothly while keeping mechanical and electrical stresses to a minimum.