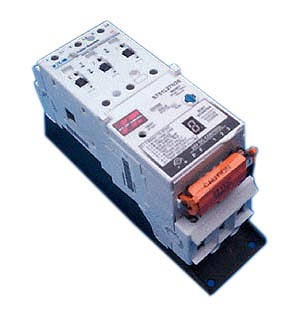 Click for the
Cutler Hammer
Soft Start Acrobat Brochure

Cutler Hammer
has developed probably the world's most compact range of high specification soft starts which are suitable for Industrial Applications such as: Conveyors, Mixers, Cranes and Hoists. These Soft starters are ultra-compact, easy-to-program and easy to install. New design incorporates the soft starter, run bypass contactor and overload into a single easy-to-use unit. In contrast a
star-delta starter
uses 3 or 4 contactors, a timer, a separate overload, mechanical interlock and auxiliaries and requires wiring together. IT Soft Starts are IEC, UL, CSA, EN Certified and CE Marked EMC/LV Directive
Features Include:
Full 3-phase SCR control.
Fully rated Integral Run/Bypass Contactor.
Micro controller based Integral Solid State Overload:
Phase Loss and current unbalance protection, user selectable.
Selectable trip class; 10, 20 or 30.
Ambient compensation.
Motor Temperature protection & thermal memory at Power-up.
Running Motor thermal capacity utilisation indication.
24V DC control (a safe reliable global standard)
Unique bypass contactor coil controller provides low coil energy consumption.
Wide operating temperature range (-40 to +50 deg. Celcius)
Din Rail or Panel Mounting with highly accessible mounting tabs
Easy field assembly of control wiring with removable locking terminal block.
Front mounted auxiliary interlocks.
Long life bypass contacts provide excellent conductivity and starter efficiency.
Seven segment display for status and fault indication.
Selectable Manual, Remote or Auto reset.
Phase Reversal
Shorted SCR Protection
Vastly reduced Heat - Smaller Enclosure Size
Communicatable
Remote Mounting of Control Panel Option
List prices shown below for all sizes up to 420amp
We offer technical advice on product selection on most applications.
Send your enquiry to Technical Sales
Order Code

Kw

(Amps)
DIMENSIONS (mm)
Width
Height
Depth
S751L27N3S
15
27.0A
54
176
105
S801N37N3S
21
37.0A
65
187
168
S801N66N3S
37
66.0A
65
187
168
S801R10N3S
59
105.0A
110
200
180
S801R13N3S
76
135.0A
110
200
180
S801T24N3S
136
240.0A
200
322
170
S801V42N3S
238
420.0A
280
420
195
Also Available: Extended Ramp time units (0.5 - 360 sec's) & Pump Control Option, Pump Stop (0 - 60 secs).
The Control voltage for these Cutler Hammer Soft Starters must be in the range 20-28v DC. To meet the required sealed in and inrush characteristics Cutler Hammer recommend the following Power Supplies:
Recommended POWER SUPPLIES

Watts
Voltage
Control Voltage
PSS25E
25W
120V
24VDC
PSS25F
25W
480V
24VDC
Larger sizes available - Multiple Starters may be used with one Power Supply as long as the P/S has the Peak and Continuous wattage capacity required whilst maintaining specified output voltage