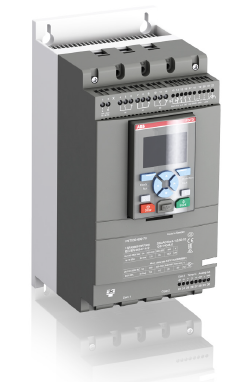 The PSTX combines many years of research and product development with extensive knowledge of application specific requirements and needs. It is the latest advancement in motor control and protection and adds new functionality and increased reliability.
• Three-phase controlled
• Operational voltage: 208 – 690 VAC
• Wide rated control supply voltage: 100 – 250 V, 50/60 Hz
• PSTX rated operational current: 30 to 1250 A (inside-delta: 2160 A)
• Both in-line and inside-delta connection
• Coated circuit boards protecting from dust, moist and corrosive atmosphere
• Detachable keypad rated IP66 (Type 1, 4X,12)
• Graphical display with 15 languages for easy setup and operation
• Built-in bypass for energy saving and easy installation
• Built-in Modbus RTU for monitoring and control
• Support for all major communication protocols
• Analog output for measurement of current, voltage, power factor etc.
Complete motor protection
The PSTX offers complete motor protection in only one unit and is able to handle both load and network irregularities. PT-100, earth fault protection and over/under voltage protection along with many other functions keep your motor safer than ever.
Three types of current limit
PSTX offers three types of current limit: standard, dual and ramp. This gives you full control of your motor during start. It also allows you to use your motor in weaker networks.
Built-in bypass saves time and energy
When reaching full speed, the PSTX will activate its bypass. This saves energy while reducing the softstarter's heat generation. On the PSTX, the bypass is built in and verified by ABB, saving you time during installationand space in your panel.
Easy-to-use and detachable keypad
A user-friendly and clear display saves you time and resources during both setup and operation. The detachable keypad is standard on all PSTX softstarters.
Complete control of pumps
Time to use your processes to their full potential. The PSTX features many application enhancing features, including torque control: the most efficient way to start and stop pumps. The pump cleaning feature can reverse pump flow and clean out pipes, securing uptime of your pump system.
Jog with slow speed
The slow speed forward and backward jog feature will make you more flexible when operating e.g. conveyor belts and cranes. The PSTX provides positioning capabilities, letting you take control of your process.
PSTX
Rated operational voltage, Ue, 208 – 600 V AC
Rated control supply voltage, Us, 100 – 250 V AC, 50/60 Hz
Motor power
400 V Pe
kW
IEC
Max rated operational current Ie
A
Type
Order code
Weight kg
1 piece
15
30
PSTX30-600-70
1SFA898103R7000
6.10
18.5
37
PSTX37-600-70
1SFA898104R7000
6.10
22
45
PSTX45-600-70
1SFA898105R7000
6.10
30
60
PSTX60-600-70
1SFA898106R7000
6.10
37
72
PSTX72-600-70
1SFA898107R7000
6.10
45
85
PSTX85-600-70
1SFA898108R7000
6.10
55
106
PSTX105-600-70
1SFA898109R7000
6.10
75
143
PSTX142-600-70
1SFA898110R7000
9.60
90
171
PSTX170-600-70
1SFA898111R7000
9.60
110
210
PSTX210-600-70
1SFA898112R7000
12.70
132
250
PSTX250-600-70
1SFA898113R7000
12.70
160
300
PSTX300-600-70
1SFA898114R7000
12.70
200
370
PSTX370-600-70
1SFA898115R7000
12.70
250
470
PSTX470-600-70
1SFA898116R7000
25.00
315
570
PSTX570-600-70
1SFA898117R7000
25.00
400
720
PSTX720-600-70
1SFA898118R7000
46.20
450
840
PSTX840-600-70
1SFA898119R7000
46.20
560
1050
PSTX1050-600-70
1SFA898120R7000
64.20
710
1200
PSTX1250-600-70
1SFC898121R7000
64.70
Please call the sales team to discuss your individual requirement.