In Nexans factories, strict quality control is one of the most important tasks to ensure a long-life term of our products.
Due to the high mechanical, torsion and tensile stresses appeared in handling applications, Nexans carry out extreme mechanical type tests before a new product range is introduced into the market. The test conditions are much more harder then the reality in the application.

Climate-tests, continous-tests for artificial ageing, mechanical and chemical compound properties (e.g. tensile strength, elongation, density, tear resistance and abrasion, oil, ozone, UV resistance) serve to increase the operating period of our products. All these tests are the basis for Nexans to improve the high quality level and cable performance.
Torsional Resistance Test / Anti twisting test
The torsional resistance test is carried out to evaluate the mechanical behaviour of cable with respect to, it's twisting properties at simultaneus tensile load, different torsional angle and twisting speed.
Operating conditions:
tensile force: up to 4,000 N (depending on cross-section)
torsional force: 200 Nm (depending on cable length and cross-section)
torsional angle: ± 100° (depending on clambing length)
The anti twisting test is carried out to evaluate the resistance of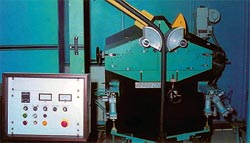 the cable regarding of twisting force.
Alternating/Reversed Bending Test
In line with the VDE 0472 standard part 603. To show the operating conditions under enhanced bending stress. This test permits us to develop better conductor design.
Operating conditions:
cycle movement: max 180°
tensile load: max 3,000 N (depending on cross-section)
Roller Bending Test
The bending test is used for operating time-lapse evaluation of flexible cables for middle and heavy duty service with regard to:
travelling behaviour over pulleys under simultaneous pulling force
determination of broken wires under service
quality of repairing points

Drag Chain Test
This test facility permits the combination of small bending radius, with high acceleration and high
speed movement.