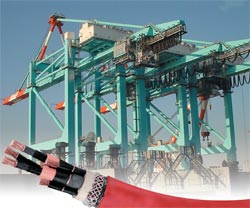 Reeling Cables 1.8/3 (3.6) kV up to 18/30 (36) kV
Applications
Flexible reeling cable for energy supply. Especially for high and extreme mechanical stress, e.g. torsional stress and high reeling speed. For deflection into different planes. Also usable for festoon systems, open-cast and underground mining.
Main applications: Ship to Shore Cranes (STS), Rail Mounted Gantry Cranes (RMG), Ship Unloader, Stacker Reclaimer and other heavy mobile equipment.
Design
1. Conductor
Flexible, plain copper, "FSC" better than IEC 60228 class 5
2. Insulation
Inner semi-conductive layer
New special insulation compound "RHEYCLEAN" based on EPDM, better than DIN VDE 207 part 20.Outer semi-conductive layer,"RHEYSTRIP", easy strip design
3. Protective earth conductor
Flexible, plain copper, "FSC" better than IEC 60228 class 5
4. Semi-conductive layer
5. Inner sheath
Special synthetic rubber,
better than GM1b
6. Reinforcement
Synthetic threads with very
high tensile strength as a
protection against twist
stress and pressure loads
7. Outer sheath
New special sandwich construction for an optimum of flexibility, abrasion
resistance and heavy load, special rubber ompound
Colour:
Red
Marking
RHEYFIRM(RTS) (N)TSCGEWTOEUS
Number of cores – cross-section Voltage – NEXANS – year
Core Identification
Six cores design:
– three phase cores
– three protective earth cores in the interstices.
Length of lay is optimised for the different applications.
Standards
In line with DIN VDE 0250 part 813
DIN VDE 0295
DIN VDE 0298
DIN VDE 0472
prEN 50363
Mechanical properties
Tensile stress of the conductor 
static
15 N/mm2
dynamic
30 N/mm2
Bending radii 
according to DIN VDE 298,
Tests 
alternating/reversed bending test, torsional resistance test
Reeling speed 
up to 190 m/min (for higher speed contact us)
Chemical properties
Oil resistant.
For indoor and outdoor applications. Moisture, UV and ozone resistance.
Flame-retardant according to IEC 60 332 part 1.
Electrical, Optical and Thermal properties
EMC 
Excellent EMC compatibility due to 6 cores design
Nominal voltage 
Uo/U
1.8/ 3 kV to 18/30 kV
Maximum operating voltage in AC systems 
Um
1.2 x U
Maximum operating voltage in DC systems 
Vm
1.8 x U
Test voltage 
11 to 45 kV in AC
27.5 to 107.5 kV in DC
Current rating (A) 
according to DIN VDE 0298 part 4,
see electrical characteristics page 3.2 B
Max. temperature at the conductor: 
– in service
+ 90 °C
– under short-circuit conditions
+ 250 °C
Max. surface temperature: 
– fixed installation
– 50 °C up to + 80 °C
– mobile operation
– 35 °C up to + 80 °C
RHEYFIRM®(RTS) (N)TSCGEWTOEUS
Number of cores and


nominal cross-section

Outer diameter
Weight approx.
Tensile strength
(mm2)
Min. (mm)
Max. (mm)
(kg/km)
(N)
1.8/3 (3.6) kV
3 x 25 + 3 x 25/3
31
34
1,850
3,000
3 x 35 + 3 x 25/3
34
37
2,320
3,000
3 x 50 + 3 x 25/3
38
41
2,900
3,000
3 x 70 + 3 x 35/3
43
46
3,900
4,200
3 x 95 + 3 x 50/3
49
51
4,900
5,700
3 x 120 + 3 x 70/3
54
57
6,120
7,200
3 x 150 + 3 x 70/3
57
60
7,180
9,000
3 x 185 + 3 x 95/3
62
65
8,600
11,100
3 x 240 + 3 x 120/3
69
72
10,800
14,400
3 x 300 + 3 x 150/3
76
79
13,250
18,000
3.6/6 (7.2) kV 
3 x 25 + 3 x 25/3*
39
42
2,350
3,000
3 x 35 + 3 x 25/3*
42
45
2,900
3,000
3 x 50 + 3 x 25/3
46
49
3,550
3,000
3 x 70 + 3 x 35/3
49
52
4,460
4,200
3 x 95 + 3 x 50/3
55
58
5,500
5,700
3 x 120 + 3 x 70/3
58
61
6,600
7,200
3 x 150 + 3 x 70/3
64
67
8,000
9,000
3 x 185 + 3 x 95/3
68
71
9,300
11,100
3 x 240 + 3 x 120/3
73
76
11,350
14,400
3 x 300 + 3 x 150/3
80
84
13,750
18,000
6/10 (12) kV 
3 x 25 + 3 x 25/3*
39
42
2,350
3,000
3 x 35 + 3 x 25/3*
42
45
2,900
3,000
3 x 50 + 3 x 25/3
46
49
3,550
3,000
3 x 70 + 3 x 35/3
49
52
4,460
4,200
3 x 95 + 3 x 50/3
55
58
5,500
5,700
3 x 120 + 3 x 70/3
58
61
6,600
7,200
3 x 150 + 3 x 70/3
64
67
8,000
9,000
3 x 185 + 3 x 95/3
68
71
9,300
11,100
3 x 240 + 3 x 120/3
73
76
11,350
14,400
3 x 300 + 3 x 150/3
80
84
13,750
18,000
8.7/15 (18) kV 
3 x 25 + 3 x 25/3*
39
42
2,350
3,000
3 x 35 + 3 x 25/3*
42
45
2,900
3,000
3 x 50 + 3 x 25/3
46
49
3,550
3,000
3 x 70 + 3 x 35/3
49
52
4,460
4,200
3 x 95 + 3 x 50/3
55
58
5,500
5,700
3 x 120 + 3 x 70/3
58
61
6,600
7,200
3 x 150 + 3 x 70/3
64
67
8,000
9,000
3 x 185 + 3 x 95/3
68
71
9,300
11,100
3 x 240 + 3 x 120/3
73
76
11,350
14,400
3 x 300 + 3 x 150/3
80
84
13,750
18,000
12/20 (24) kV
3 x 25 + 3 x 25/3
46
49
3,000
3,000
3 x 35 + 3 x 25/3
48
51
3,400
3,000
3 x 50 + 3 x 25/3
50
53
3,900
3,000
3 x 70 + 3 x 35/3
55
58
5,050
4,200
3 x 95 + 3 x 50/3
58
61
5,900
5,700
3 x 120 + 3 x 70/3
61
64
6,950
7,200
3 x 150 + 3 x 70/3
66
69
8,210
9,000
3 x 185 + 3 x 95/3
70
73
9,550
11,100
3 x 240 + 3 x 120/3
77
80
12,200
14,400
3 x 300 + 3 x 150/3
82
85
14,100
18,000
14/25 (30) kV 
3 x 35 + 3 x 25/3
53
56
3,950
3,000
3 x 50 + 3 x 25/3
55
58
4,480
3,000
3 x 70 + 3 x 35/3
58
61
5,460
4,200
3 x 95 + 3 x 50/3
62
65
6,400
5,700
3 x 120 + 3 x 70/3
64
67
7,300
7,200
3 x 150 + 3 x 70/3
69
72
8,710
9,000
3 x 185 + 3 x 95/3
73
76
10,200
11,100
3 x 240 + 3 x 120/3
79
82
12,400
14,400
3 x 300 + 3 x 150/3
84
87
14,600
18,000
18/30 (36) kV 
3 x 35 + 3 x 25/3
60
63
4,830
3,000
3 x 50 + 3 x 25/3
62
65
5,310
3,000
3 x 70 + 3 x 35/3
64
67
6,150
4,200
3 x 95 + 3 x 50/3
66
69
7,000
5,700
3 x 120 + 3 x 70/3
69
72
8,050
7,200
3 x 150 + 3 x 70/3
75
78
9,510
9,000
3 x 185 + 3 x 95/3
77
80
10,800
11,100
3 x 240 + 3 x 120/3
85
88
13,300
14,400
3 x 300 + 3 x 150/3
89
93
15,500
18,000
Options
Other sheath qualities and colours on request
Monitoring conductors: Concentric or as an individual core
Including signal cores, telecommunication cores
Pre-assembled with sealing ends upon request