Flexible Cables with Optical Fibre Elements (OFE)
Applications
For data transmission without electromagnetic smog. Especially for reeling applications. Further used for festoon and e-chain systems on cranes and other material handling equipments.
Design
1. Optical Fibre
Fibre diameter: 9/125 μm; 50/125 μm; 62.5/125 μm
Fibres laid in a jelly filled high performance thermoplastic tube.
2. Strain Relief
High-end synthetic rovings
3. Reinforcement
Braid, synthetic threads with
very high tensile strength
4. Inner sheath
Rubber compound 5GM5 refer to DIN VDE 0207 part 21
5. Outer sheath
Rubber compound
5GM5 refer to DIN VDE 0207 part 21 ,heavy duty abrasion and notch-resistant
Colour:
Black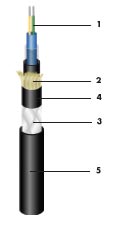 Marking
RHEYCORD-OFE R
Number of fibers – Diameter NEXANS – year
Fibre Identification
DIN VDE 0888
Standards
In line with DIN VDE 0888; DIN VDE 0168
Mechanical Properties
Torsional stress 
≤120 ‹/m
Tests 
alternating/reversed and roller bending test,
torsional resistance test
Travelling speed: 
– festoon, e-chain
up to 240 m/min (for higher speed contact us)
– reeling speed
up to 120 m/min
Chemical properties
Oil resistant.
For indoor and outdoor applications. Moisture, UV and ozone resistance.
Flame-retardant according to IEC 60 332 part 1.
Optical and Thermal properties
Max. surface temperature: 
– fixed installation
-40 °C up to +80 °C
– mobile operation
-30 °C up to +60 °C
RHEYCORD®-OFE R
Types
Outer diameter
Weight
approx.
Max.
tensile load.
Min. (mm)
Max. (mm)
(kg/km)
(N)
MULTI-MODE/
GRADED INDEX
6 G 50/125
14
16
240
2000
12 G 50/125
18 G 50/125
24 G 50/125
6 G 62.5/125
12 G 62.5/125*
18 G 62.5/125
24 G 62.5/125
MONO-MODE/SINGLE MODE
6 E 9/125
12 E 9/125
18 E 9/125
24 E 9/125
Options