Rubber Pendant Overhead Crane Cables
Applications
Rubber cable with a central strength member used for control, measurement and signalling in the steel, mining and chemical industries.
In addition as cantilevered control cable for cranes (e.g. to remote control on overhead cranes with pushbutton boxes), wind turbines, conveyor and storage systems.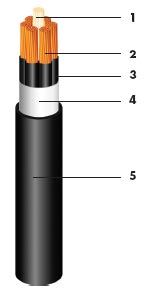 Design
1. Central strength member
2. Conductor
Flexible, plain copper, according to IEC 60228/  DIN VDE 0295 class 6
3. Insulation
EPR, rubber compound refer to IEC 60502-1
4. Separator
Nonwoven tape over each layer
5. Outer sheath
EM2, rubber compound refer to DIN VDE 0207 part 21,
heavy duty abrasion and notch-resistant
Colour:
Black
Marking
RHEYFLEX-PN Number of cores – cross-section NEXANS
Cores Identification
DIN VDE 0293 part 308; HD 308 S2 black with white printed numbers + green/yellow core (in the outer layer).
Standards
Nexans specification
Mechanical Properties
Tensile stress of the conductor 
static 
15 N/mm2
dynamic 
30 N/mm2
Bending radii 
according to DIN VDE 298,
Chemical properties
Oil resistant.
For indoor and outdoor applications. Moisture, UV and ozone resistance.
Flame-retardant according to IEC 60 332 part 1.
Optical and Thermal properties
Nominal voltage 
Uo/U
450/750 V
Maximum operating voltage in AC systems 
Um
825 V
Maximum operating voltage in DC systems 
Vm
1,238 V
Test voltage 
2.5 kV in AC
Current rating (A) 
according to DIN VDE 0298 part 4,
see electrical characteristics page 3.2 B
Max. temperature at the conductor : 
– in service
+ 90 °C
– under short-circuit conditions
+ 250 °C
Max. surface temperature : 
– fixed installation
– 40 °C up to + 80 °C
– mobile operation
– 25 °C up to + 60 °C