Basket Spreader Cables
Applications
Special control cablesfor load lifting devices such as spreader with high mechanical stress in vertical free-fall basket operation in dry, humid and wet rooms and for outdoor marine environments.  Used e.g. in electro-hydraulic telescopic spreader for:
Ship to Shore (STS) cranes,
Rail Mounted Gantry cranes (RMG),
Rubber Tired Gantry cranes (RTG),
Intermodal stacking cranes,
Mobile harbour cranes …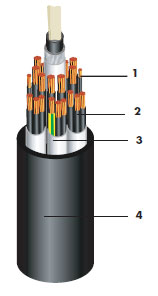 Design
| | |
| --- | --- |
| 1. Conductor | Extra flexible, plain copper, acc. to DIN EN / IEC 60228 class 6 |
| 2. Insulation | PVC compound according to DIN EN 50363-3 |
| 3. Core assembling | Bundle stranding with/without EMC screen and heavy weight elements |
| 4. Outer sheath | Thermoplastic polyurethane according to DIN EN 50363-10-2 |
| Colour: | Black |
Marking
eg RHEYCORD(BS) YSLZ3SOE-J 44 x 2.5
300/500V I NEXANS I year
Cores Identification
DIN VDE 0293 part 308 white cores with black printed numbers + green/yellow core.
Standards
International Nexans specification UL FILE-CCN: E60419-ZIPF
Mechanical Properties
Tensile stress of the conductor 
static
15 N/mm2
dynamic
30 N/mm2
Bending radii 
according to DIN VDE 298-3,
see construction characteristics
Tests 
alternating/reversed bending test, torsional resistance test
Travelling speed 
up to 160 m/min
Chemical properties
Oil resistant.
For indoor and outdoor applications. Moisture, UV and ozone resistance.
Electrical and Thermal properties
Nominal voltage 
Uo/U
450/750 V
Maximum operating voltage in AC systems 
Um
550 V
Maximum operating voltage in DC systems 
Vm
825 V
Test voltage 
2.0 kV in AC
Current rating (A) 
according to DIN VDE 0298 part 4,
Max. temperature at the conductor: 
– in service
+ 70°C
– under short-circuit conditions
+ 150°C
Max. surface temperature: 
– fixed installation
-20 °C up to + 60°C
– mobile operation
– 20 °C up to + 60°C
Number of cores and

nominal cross-section

Outer diameter

Weight

approx.
(mm2)
Min.(mm)
Max.(mm)
(kg/km)
CONTROL
48 x 1
32
35
2100
30 x 2.5
32
35
2200
36 x 2.5
35
38
2600
42 x 2.5
38
41
3100
44 x 2.5
37
40
3250
20 x 3.5
30
33
1850
24 x 3.5
32
35
2350
30 x 3.5
35
38
2800
36 x 3.5
39
42
3700
42 x 3.5
43
46
4700
54 x 2.5
46
49
4500
24 x 12 AWG
33
35
2200
36 x 12 AWG
39.5
42.5
3500
42 x 12 AWG
43
46
3900
44 xf 12 AWG
43
46
3800
Control with Optical Fibre Element
32 xf 3.5 + OFE
39
42
3550
Control With Concentric Screen
48 x 1
38
41
2400
30 x 2.5
38
41
2550
36 x 2.5
35
38
2950
42 x 2.5
43
46
3700
20 x 3.5
36
39
2100
24 x 3.5
38
41
2600
30 x 3.5
41
44
3150
36 x 3.5
45
48
4150
42 x 3.5
49
52
5250
Options
Further numbers of cores upon request
Integrated Optical Fiber Elements
Integrated BUS-System